Monday, July 12, 2010
HCwDB of the Week
This is a quality smackdown. Three supreme all beef patty choices. You know the drill. Bring it. Here's your finalists:
HCwDB of the Week Finalist #1: The Frogger and Leanne, aka Lily Pad Hott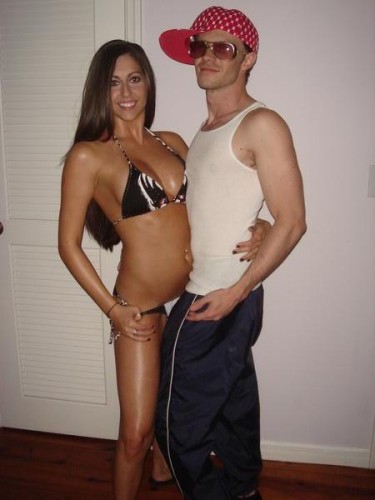 About time we get some Kid Rock classic Southern Douchebag all up in this bisquit.
Froggy is classic roadkill chum.
Elvis glasses, hat tilt and 'tude.
And lets not forget, The Frogger's Lily Pad Pear Grab (aka "the day the music died").
The opposition between quality female form and truck runover worthy Bawdiggaba da douchey douchey douchey is strong with this one.
But strong enough to be award winning shoe scrape?
Southern Kid Rock Trashbag types have rarely won a Weekly.
Could this be the tide turn? And by tide turn, I mean Lily's lickable wallpaper?
HCwDB of the Week Finalist #2: The Tang and Shoshanna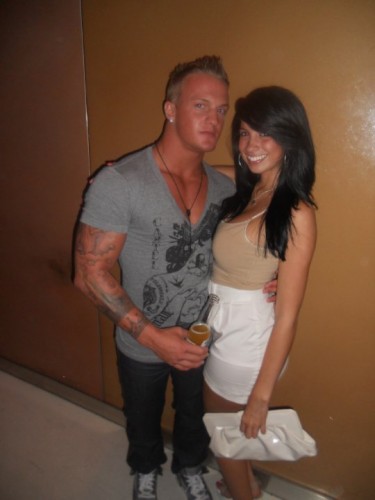 Strange mutant camera angle that shrinks The Tang's legs into stumpy twigs is complimented by a second pic of The Tang in which The Tang may or may not actually be The Tang.
This is just all sorts of weirdness.
For The Tang is not just spikey haired orangedouche. He's also an important technological innovation.
You see, the Tang was famously invented by NASA in the 1970s to insure that astronauts wouldn't fear death in the case of emergency. If the Shuttle was in trouble, all the astronauts had to do was realize that The Tang existed, and life would seem meaningless and death a welcome release.
And there's two pics of sweet wholesome Polly Purebread boobie gnaw in the form of sorority pledging Shoshanna.
The dialectic is strong with this pairing. But enough to win the Weekly? What about:
HCwDB of the Week Finalist #3: The Mountinis and Kimberly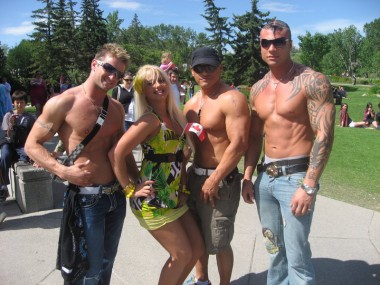 Bringing deep shame to Canada, the atrocious Mountinis continued to mug Kimberly until they gave up and went for Appletinis.
Add up the douchetributes:
Greased widow peak hair on Mountini Fred.
Roided up orangebag status.
And poor Kimberly. All she wanted to do was find a decent boy to make out with in the greater Trois-Rivières area.
(Dis)honorable mention to Boris, who brought Suzie's perfect boobage but a bit too ironic dressup to make the Weekly, the creepy goth douche of Nick Preps for Brain Surgery, and the hotness of Paid to Pose Lisa who got snagged by The Spike Brothers.
But them's your three HCwDB finalists, and all three are quality. Which will rise to the top (bottom) and earn our first slot in the next HCwDB of the Month?
Vote, as always, in the comments thread.
EDIT: And while you're voting, take a moment to remember the unique voice and brilliance of Harvey Pekar.