Thursday, July 8, 2010
Magritte N'est Pas Une Douchebag.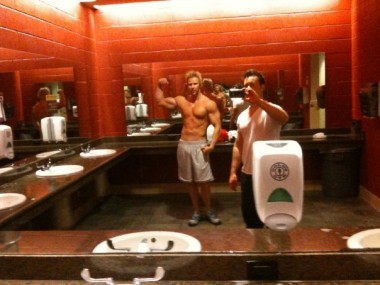 I title this, my latest master work of outsider art, "Magritte N'est Pas Une Douchebag," to both honor as well as critique the great modernist painter.
While there are no hot chicks to counterbalance this pic in proper HCwDB formulation, the use of spatial isolation functions as a critique of the douche body absent the normative gender roles.
The framing via reflection and the privileging of the apparatus at the moment of capture all suggest an inability to reclaim the artifact in the age of sociological fracture and identity destabilization. While the prominent role of hand sanitizer offers a playful critique of the ultimate greasy and unclean douche plague in all of its manifestations.
This latest work will, of course, be a part of my gallery showing at the Guggenheim Museum in 2023 when my genius for reappropriating images in the age when virtual has superceded actual is finally recognized by the academy.
But, since there are no Hot Chicks in this work of art, have some Snap Pear.