Monday, July 12, 2010
Muggy Rodriguez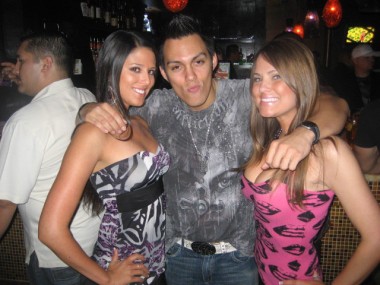 Muggy Rodriguez is your standard issue Dallas Douche (stupid shirt, stupid face, white belt, spiker hair, etc.)
But Rosalyn on the right's breasteses are a once in a lifetime glory of glories high holiday holiest of holies with a Leonard Cohen Hallelujah thrown in on high speed remix.
Their soft nuzzly nuzzles must be triple-taked to be appreciated. Looked at once. Then double taked. Then triple taked. And then spit taked. And then out taked. And then a quiet moment of repose with a nice port wine.
Her best friend, Candy, is quality hottsicle as well, and I thank both of their mothers for genetic gifts, and their fathers for emotional coldness leading to revealing clothing purchasing beginning in their early teen years.