Tuesday, July 27, 2010
Reader Mail: Snooki Rings the Stock Bell, Pete Gives Up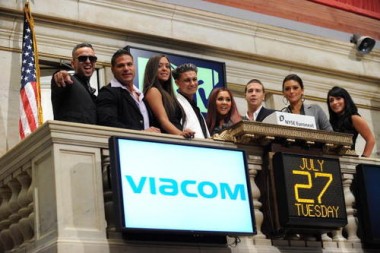 —–
DB1, SIR!!!
I am no longer able to faithfully execute my duties in service to The War Against Taints on our Society. I must respectfully step down and relinquish my duties.
I know some might say that i'm taking the coward's way out, but i happen to disagree. Isn't there something to be said for letting a society that elevates the spectacle of self indulgence — to a point that it gives them complete control over the huddled masses — collapse into oblivion and the annals of history?
Surely at some point during the collapse of the roman empire, someone somewhere took a look at their society and thought to themselves, "You know this is pretty messed up. Not worth saving. F@ck it!"
Well, today that person is me.
I can carry on this battle no longer. I shall go commit hari kari using Four Prong, and shuffle off this mortal coil. I wish you the best, but i know at this point the battle is for naught.
Godspeed.
– Pete
—-
Was it over when the Jerseyites Jagerbombed Long Island Harbor?
Never say die, Pete. Never give up mocking.