Thursday, July 29, 2010
Reader Mail: Soldier "A" Loses Faith in Humanity Because of Douchebags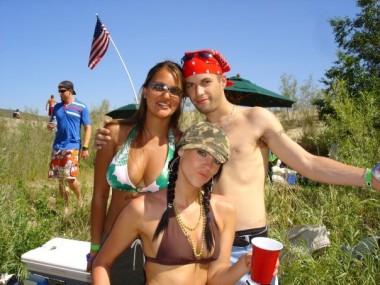 —–
Dear DB 1.
I've been in the army for 10 years. I'm currently deployed for the 3rd time to the Wild Wild West A.K.A Afghanistan.
I'm happy to say that this will be my last tour because I'm getting out of the Army. The reason being is a combination of your site and the fact that I lost all faith in humanity.
After 9/11 and Iraq I thought that being a soldier and fighting for American people and possibly dying for my country was the greatest achievement I could ever accomplish. Sadly now my views have changed.
I don't believe our society along with Douchbags found on our site, Lindsey Lohans, and Jersey shore morons is worth saving! I could never live with myself knowing that each day young 20-something American Soldiers lose their lives while we get to watch, read, and hear about the cast of Jersey Shore ring the opening bell on the NY stock exchange!!!
-A

—-
Have faith, A, and when you get your ass back stateside, I'm giving you one more mission: Hott Saving. To paraphrase the Torah, he who saves one Hott from a preening pretend tough-guy douchebag, saves the world.
You've served your country. Now, when you get home, get to work saving the hott from the 'bag. Only then will your mission be accomplished.