Friday, July 23, 2010
Ryan Tags an Orange Inflat-a-Bag and Suburban Attitude Hott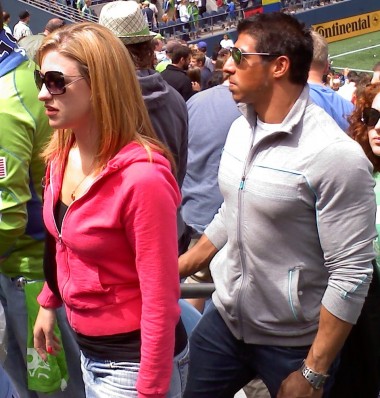 Reader Ryan goes the extra yard for an HCwDB tag:
————–
DB1,
I had asked them to pose, and the Douche got upset. I suspect he knows about your site. I then took this while they were walking out, and got caught. Sir Douche demanded that I delete the photo, but his girl cautioned him not to get in a fight. He might destroy his new mirrored aviators. I asked him if he knew he had a trail of ants on his face, and he again nearly let his pythons and man nips explode from the sweatshirt. Luckily I am 6'3", 300lbs, or I would have, "Suffered!"
— Ryan
————–
Risking personal injury in service of a 'bag tag is never encouraged but always appreciated, good work, Ryan. And bonus points for asking a 'bag about the ants fung. However, I think they may be bark beetles.