Thursday, August 5, 2010
Ask DB1: Military 'Bags?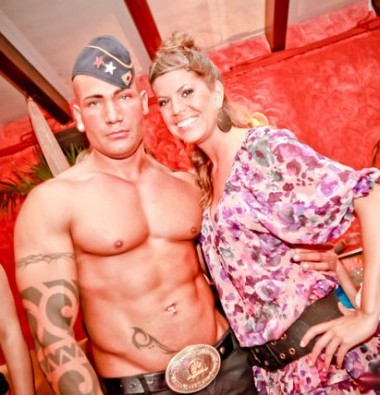 SFC A.R. writes in from Afghanistan:
——
Dear DB1,
I've been an avid fan of the website for quite some time. I commented on a few pictures and send you some emails in the past asking about the un-earned dog tag phenomena.
This time around I once again find myself in the middle of no-where Afghanistan for the 3rd time in the last 5 years. There are no hot babies (Vince Vaughn term to describe women from Swingers) here, and my team is all males, most of them are sadly the biggest douchebags of the special operations community.
When these guys are not fighting for this country, they would otherwise be found on your website. All spend hours in the gym and have "cool guy" tattoos. While we do not get back until November there are already talks about going to Vegas, specifically to the douchebag Mecca described in your book: Club Rehab at Hard Rock casino!
The reason why I'm writing is because I cannot comprehend why hot women featured on your site love these lame guys they are with? I believe our society spends more time on worshipping false idols like Mike Situations and Lindsay Lohans then we did 10 or 15 years ago. What do hotchicks say in their self-defense of the guys they are with? It is as paradoxical to me as seeing clips of the Jersey Shore on my computer.
And in case this email makes it to your site I just want to say one thing to all the HOTCHICKS and all the DOUCHEBAGS who "accidentally" wander on your website to cry about their pictures being displayed here. BIG MUSCLES DON'T WIN WARS! "COOL GUY" TATTOOS AND NICE TANS DON'T WIN WARS EITHER! People with courage who aren't afraid to face hardship, danger, and adversity WIN wars! Douchebags got a LOOONG way to go!!!
Sincerely,
SFC A.R.
——
Well said, SFC A.R. Well said.
As with Soldier A's email last week, it can be hard realizing how douchey the country is getting while serving to defend it. And while simply serving in the military does not automatically exempt one from being a douchebag (douches are found in all walks of life), at least the Dog Tags are earned, and that's legit. While I encourage you to enlighten your fellow enlistees as to how to dedouchify when they get home, if they need to go to Vegas when you all get back, I say go to Vegas.
Just don't stay at the Hard Rock or the Palms. The Bellagio is much less douchey. Or the Wynn.
And douchebags who emulate the military, without actually serving, are worthy of double mock, so be sure to bring the 'bag tag mock when you guys get home.
For now, carry on, Soldier.