Saturday, August 14, 2010
Ask DB1: Tatt 'em and Taboo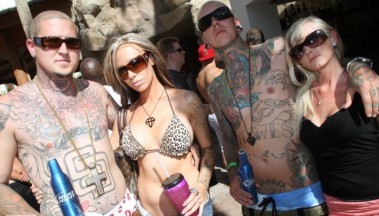 —–
Dear DB1
I would like to start this question off with a simple reminder to all readers that I will submit unconditionally to the rulings of my fellow Bag-Hunters and the omnipotent DB1 regarding this matter.
That being said I am concerned with one of your older posts not quite hitting the nail accurately enough on the proverbial head. When you say that tattoos involving "tasteful or artistic" things are not inherently bag I would tend to disagree.
Perhaps this is only in my personal experience, but I have noticed a trend up here in my hometown whereby many people I know I tend to mock for douchebaggery due to their excessive tribal or likewise, only to learn that they are in fact passable as nottadouches! The opposite is true as well. Many people I meet in my day to day douche-mockery have "tasteful" tattoos and yet when pressed for a story or explanation for the origins of said tattoos, give excessively douchey responses.
So my question to you, all knowing father DB1 is this: Are not those with tasteful tattoos just as susceptible to levels of inherent douchebaggery? In this case for being pseudo-intellectual douches? And if so, are not those with tattoos of things they like, no matter how pointless they may seem, able to be passable as more than steaming piles of douche with a side of chode fries?
Sincerely,
Admiral "It's a Douche-Trap!" Ackdouche

—-
This is an interesting point Admiral Ackdouche, and it reminds us that douchebaggery, and Bleethery in the females, is, of course, made up of a complex formulation of numerous variables (faux, tatts, sneery face, hand gestures, Ed Hardy, Axe bodyspray, etc.) in relational discourse.
Each of these variables can be mitigated as part of a larger whole in terms of critical analysis of the hottie/douchey ratio. Just as some hotties can offer one single hottribute, or simply be a sexy greater than the sum total of objectifications, so too can our 'bags be marked. Tatts alone do not always tell the whole scrotal story.