Wednesday, August 18, 2010
Caption This Pic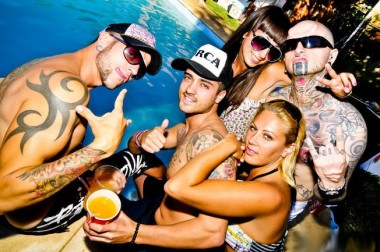 M. Night Shyamalan's "Douchebags in the Water" proved to be the nail in the coffin of his once promising career.
Third Place – Dr. Bunsen Honeydouche: The members of the new Swedish zither death metal-jazz-punk fusion band "Creampie Surprise" take a break from recording their debut album "Porch Beef Sharting". Here we see band members (L to R) Derpalogaphous, Rectal Cancer Asshat, and Pustule enjoying a sunny Delaware afternoon outside their Salvation Army digs. Catch them at a local Waffle House near you.
Second Place – Vin Douchal: Phil Collins attempts comeback with "Blink 183″
First Place – Mr. Scrotato Head: The Grubslaughter Carnival employee appreciation pool party was a raging success until the Johnsons woke up, turned on the sprinklers, and called the cops.