Friday, August 6, 2010
Friday Thoughts and Links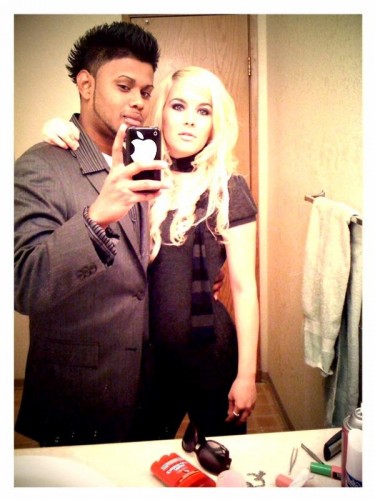 Brothabag Edgar brings two things to the game. 1. Hot Chicks. 2. Uberdouchebaggery. To paraphrase Shakespeare, the playah's the thing. This greasy tool may be Welles in '41. Koufax in '61. Gillis in '78. We'll see how far that spike can go at the next HCwDB of the Week.
Meanwhile, your humble narrator is spending the weekend in Cape Cod. Mocking the Masshole 'Bags and continuing to marvel at New England's limited hott supply.
Back to work very soon in L.A. so a bit more of summer to be had. And tasty Hostess Treats to bridge the time.
Here's your links:
My childhood hometown alt weekly, The Boston Phoenix, disses HCwDB, my show, and gives no credit where credit is due, vis a vis the origins of "douche T.V." Then again, the writer has to live in Boston. The rest of us got out in the 90s.
David H. Brooks, a military contractor, spends $100,000 taxpayer dollars on an American flag belt buckle encrusted with rubies, sapphires and diamonds. Earns a Douchebag of the Year award.
Snitches get Stitches. Douchebags get beer pong.
Musicsnobbery.com does a nice takedown of a wannabe "Jersey Shore" Vinny D press release.
You didn't think it was possible, but The frolic battles are turning even more gay.
Jennifer Aniston continues desperate attempt to locate a personality. So sad when hot chicks lose all appeal due to total vacuousness.
Bernadette Peters looking Uberhott, coming out of the Walter Kerr theater on Broadway last Tuesday, taken by your humble narrator.
For the historians tracking Grieco Virus spread, here is anthropological footage of infestation beginning in Graz, Austria in 2007.
Okay, I know why you really checked in on a Friday afternoon.
Was it for Ass Beer?
Not quite. It was for Ass Pear. And here is your Pear:
Enjoy. For it is celebrated semi-globes of jiggle fondle joy.
EDIT: It appears Porch Pear has already been Paired, so as amends, I offer Over the Shoulder Pear.