Friday, August 13, 2010
Friday Thoughts and Links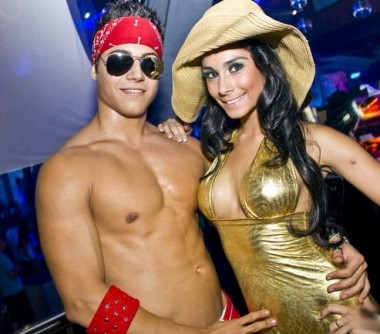 If your mandana matches your wristdana, you might be a douchebag.
Dammit. I always hated Jeff Foxworthy's one note "you might be a…" anti-comedy crappitude, yet here I am paying ode to his trite "family friendly" comedy pablum. The DB1 needs an extra serving of tasty Hostess snack cakes and quality fortified wine tonight.
Mmmm… Chocodiles. They're like crocodiles. Only with chocolate.
Here's your links:
There is one, and only one, DVD box set to own for the connoisseur of genius British comedy: And it is this.
Someone's dad is happy to teach you Monkey Frolic. Nice futon, Mr. Herbert.
Crap, even the dogs are frolicking.
On site at Lollapalooza 2010, intrepid 'bag hunter David tags us some Lady Gaga style Ass Pear. But no Indiebags, David?
Political blogger Andrew Sullivan catches Sarah Palin in a real scandal: Wearing Ed Hardy boots. I'd make fun of Palin for this, but I'm really just praying that someday she'll finally go away and leave us be.
Speaking of republicans, Arizona congressional candidate Ben Quayle likes to pal around with Nik Ritchie of "The Dirty." I'd rather pal around with terrorists.
While I loathe linking to The Chive (since they routinely steal HCwDB pics and terms without credit), their hoax sequence of a Librarian Hott quitting her job was pretty amusing. Or at least kinda sexy.
Speaking of the scrotebags at "The Chive," how many times has The Chive ripped off HCwDB material without so much as a credit or a link? This many times. These asswipes makes "The Dirty" look like a peer reviewed journal.
But enough of your humble narrator's grousing. It was a quality week and I tip my cup of Night Train to all of you who contributed brilliant comedy in the comments threads. So here's your pear:
Like twin globes of fleshy cushion glory.