Friday, August 20, 2010
Friday Thoughts and Links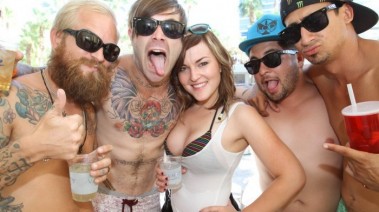 Oh, Anita.
How you stand there so calmly in the eye of the storm as four Vegas Shoescrapes circle you like rancid pudding.
Anita. Anita! As these skinny tatt-infested muggies paw your soft boobage, remember this:
You can't go, the plants'll die.
Here's your links:
Your HCwDB DVD Pick of the Week: Mohawk this guy!
Speaking of cinematic perfection, the greatest three minute sequence of the 1990s: Gutterballs! The Coen Brothers are the masters. The rest are mere filmmakers.
Last week's Basebaggery incident, in which Douchebag Bo let his girlfriend, Sara, get hit by a foul ball, has brought us one glorious revelation: Sarah is Uberhott. Yes she is.
Insecure Twitter and pathological narcissist, John Mayerbag: Before becoming Guitar Spank Lameness.
Streetfighter 2010: Boston Douchebags Beaten with a Bat. Now with bonus cheering!
Celebrity Orangebags attend the ballet. High Culture never smelled of such poo.
KTLA files this report on Los Angelesian Scrotewankery.
For the nerds among us: Darth Schwarzenegger.
Okay, enough nerdgasms. It's time to get down to your reward at the end of another quality week of hottie/douchey parse.
And since the last few weeks had some repeat Pear, you deserve not one, not two, but THREE all new servings of Pearfection. And here they is:
Splash Pear. Like a summer's breeze.
And the glories of Step Pear.
For you've earned it. Now carry the HCwDB traditions into Friday's eve with wine, bread, women and song.