Friday, August 27, 2010
Friday Thoughts and Links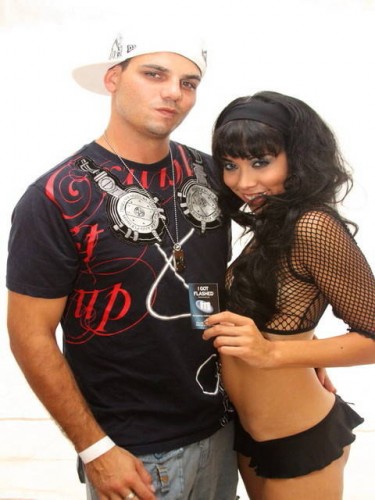 Your humble narrator stares pensively at the summer Los Angeles heatwave. And sips his Night Train in quiet repose.
The days of $2,000 bottles of Grey Goose and "pimpin'" by everyone from Wall Street asswipes to suburban parking lot frolic choads may have transmutated into comedic or ironic douchery. But the virus remains just strong.
With the success of The Jersey Shore's archetypes breaking through into the mainstream, the power of the mock has been altered. Like Skynet before it, The Douche has become self-aware.
Here's your links:
Your HCwDB DVD Pick of the Week: Shut yer stinkin' trap!
HCwDB ripoff site "The Dirty" and uberdouche Nik Richie got whacked with an 11 million dollar injunction for smearing people rather than being funny. Massive props to Barstool Sports for summing it up as best as it can be summed.
Speaking of The Dirty, republican congressional nominee and all around entitled fratdouche, Ben Quayle, contributed to The Dirty for years as "Brock Landers," still wins his primary. Stay classy, Arizona.
Perverted cat appreciates ass pear.
French Canadian rapper Pellep Pellep Pellep is the latest to "borrow" heavily from HCwDB's picture database to make a douchebag tribute video. Is this crap mocking 'bags? Supporting 'bags? Who cares. Make that horrible shite stop.
Don't get the Shut Yer Stinkin' Trap reference? Check out episode 1 of Skank. Because something on Fox smells funny.
Booty Clappin'. Ghetto Preacher does not approve.
Hardpocalypse 2010: Ed Hardy Baby Skeleton Pirate Hat. The kids aren't all right.
Twitter sensation and underage female model Justin Bieber has a dad who's a Stage douche.
Panda Dogs. Oh so cruel, yet oh so hilarious.
Rocky III may be one of the great literary masterpieces of the 1980s, but Rocky Bagboa is a saggyscrote.
And finally, here's your reward:
Use it well. Use it wisely. For the weekend is upon. And cherries are in season.