Monday, August 2, 2010
HCwDB of the Week
Our last Weekly before the next Monthly, today's vote focuses on some of the more herpalicious combos we've featured in awhile. But lest your humble narrator rambles, lets get to your choices:
HCwDB of the Week Finalist #1: Mandanna Morrie and Vanessa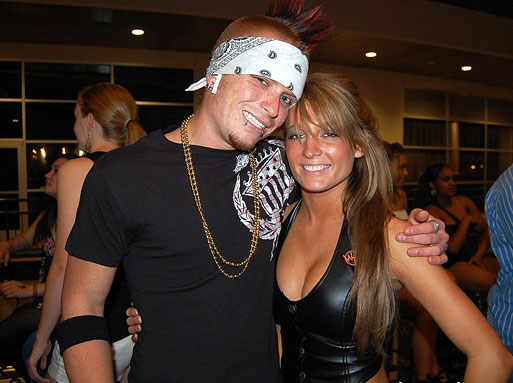 As discussed previously, Mandanna Morrie is less than the sum of his adouchetrements.
Deep down you just know Morrie's so determined to score some quality South Beach Miami poonsaki while still living off an allowance from his father, Attorney Jack McFatherson, that he's willing to go "The Full Douche."
But that does not mean we forgive.
He who dresses the 'bag contributes to the circulation of cultural meaning that spreads the virus like a smear uponst a bagel.
And for that, we must mock. Chin pube, bling, ridiculous hair and a Buick logo on his shirt. The Baby Jesus spittled.
Vanessa is all that is ambiguously paid to pose. She is tasteful, gum snappy and sweeter than you'd think. And her fantastically firm breasteses promise a field of frolicking clerics and fornicating elves. Not with each other. That would be sick. Even in Advanced D&D.
HCwDB of the Week Finalist #2: Smugger John and Valencia
The opposite end of the spectrum from Mandanna Morrie, Smuggers appeared in our Friday Thoughts and Links, but after staring at that mug over the weekend I've determined that this preening pudster has "douche aura" in disproportionate ratio to his actual signifiers.
As such, he is all that we fight against. He is pure punch crud.
Valencia shakes her booty with the soft eroticism of dancing hawkpie bluebirds who search fields of crow for shorn during the harvest season.
I have no idea what that means.
But I know I would gnaw uponst her pear, while denying Smugger John his application for a 100th week of unemployment insurance.
HCwDB of the Week Finalist #3: Tattpocalypse Tad and Glazed Gayle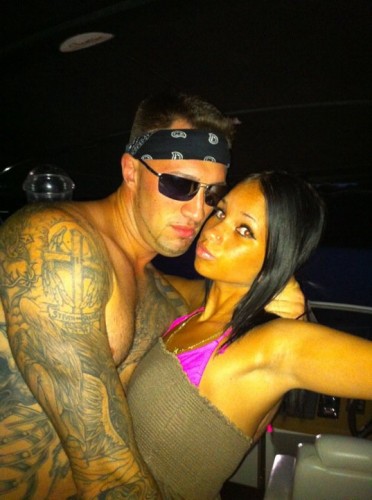 Appearing first in last week's important discussion on Freud's Douchedom and Tattoo, Tattpocalypse Tad and Gayle would normally be a shoe-in for a Weekly, especially in light of their ultra-douchey doggie 'baggin' pic #2.
With all the scrotal signifiers in force, not to mention Ubiquitous Red Cup in pic #2, this should be a crotch-dunk.
So what's holding this pic back?
Gayle. Her glazed "guidette" detracts significantly from hottie/douchey dialectics.
That being said, Gayle is certainly an attractive young thing on some primal genetic level at least, and Tad is uberdouche on so many levels, a small woodland creature just punched Bambi in the nads. Hell, the chin fung alone just caused a Daoist Monk to urinate on a scroll.
But is their cohabit enough to win the Weekly?
(Dis)honorable mention to Superlobe, whom many argued just felt too secure in his punkitude to really mock as a preening douchewank (despite his hott sister), the Caption This Pic atrocity of Lake Herpasaurus, the simply too happy to be there Scrawnster McFung, and of course to Brodie the Poet, who while a pretty harmless 'bag, at least gave us some quality spelling errors to enjoy.
Also I forgot to mention in Friday's Links that despite some dissent, Elizabeth has been elected to our fabled "Hall of Hott." For those who dispute her overall game, I'd remind them that perfection in one area (perfection of body) is often enough in any Hall. Think Wade Boggs (OBP), John Stockton (passing) or Ron Jeremy (penis).
Please welcome Elizabeth to the Hall. And by welcome, I mean fondle.
And vote now, as always, in the comments thread.
EDIT: Apologies for the late publish, WordPress autopublish ain't workin' this mornin'.