Wednesday, August 18, 2010
HCwDB of the Week: Brothabag Edgar and Josslyn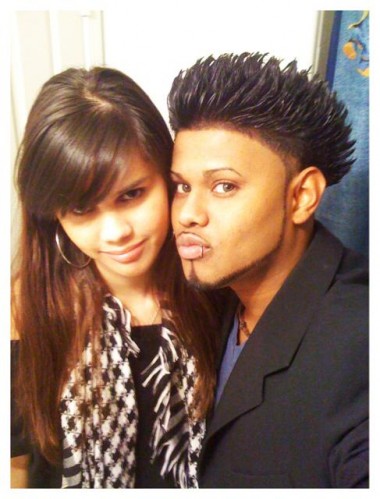 Total domination. A blowout greaseslide. Douchebag chinstrap and barely legal cuteness uber alles. Witness the epic: #1 , #2, #3 , #4, and purple kissy lips. The voters speak:
DoucheyWallnuts: Just as the Chicago Bears defeated the Washington Redskins 73-0 in the 1940 NFL Championship game, Brothabag should romp to the winners circle. Any analysis of the whys and hows are as meaningless as they would have been 70 years ago trying to explain how one team beat another by more than 10 touchdowns in a match-up between the two best teams.
Dolph Douchegren: It's as if there was a secret military program devoted to the destruction of humanity, and this douchbag (with hot chick) is the Mk1 model. Somewhere in a underground laboratory they intentionally constructed a "super-bag" from all available parts to once and for all make us lose our will to live.
SauceOfTheDouche: Every time I look at BB Edgar's hair, I expect to see Nemo's lifeless body falling out of it, coated in oil and other douchal excretions.
Taint Nuthin But A G-Thang: Edgar makes me ill. Josyln, hanging out with that pud, clearly thinks he's cool, and that just makes me sad. Edgar FTW all the way.
Chris in 'Baghdad: Brothabag Edgar is so over the top. His hott is vaguely annoying, but Brothabag's chin strap, weird 'do and general go out just scream BAG!
creature: Edgar is poo chia-pet
Whoop-Di-Douche: He is more than stream of warm vinegar water flowing from a douchebag, he is the Niagara Falls of douchebags. He blows the stopper off the bottle and the hose off the connector.
tall guy: At first I didn't want to cast my vote for BrotherBag Edgar. But then I took another look at his photo and reminded myself of just how detailed his chin pubes were. He's really trying. He's really succeeding.
mehoff: Edgar because all of the money he spends on products for his hair could save the lives of an entire African village during drought season.
Baleen: Brothabag Edgar ftw because if you sprayed him with a flame thrower, the smell would be reminiscent of charred styrofoam and burnt bacon.
Shish_kebag: Brothabag is the reason you should not get too much tan – Brothabag is the best example that there is no god ! – Brothabag is the main cause of cancer as of 2010 – Brothabag is the main cause of teen suicide as of 2010 – Brothabag is the main reason why we hate douchebags !
Crucial Head: This vote was the easiest thing since writing the script for The Expendables.
ehcuodouche: It takes a special kind of douche training to make the chin fung completely encircle one's face. And Josslyn is just a special kind of barely legal multicultural innocence…
Guns-N-Douches: Edgar pulls off a very difficult trick: taking a self portrait while throwing a douchie hand gesture with the same hand (see pic with skanky bikini stripper). Oh and every time I look at Josslyn, I get a tingle in my naughty bits. Winner winner, chicken dinner.
Bag Margera: Brothabag's hair is shinier than Calibag's Cali necklace. Brothabag FTW.
Indiana Choad and the Temple of Douche: Edgar FTW. Caause he brings the old school Joey Porch classic douchery.. And by bringing it old school, I mean bring the vomit up the esophagus.
The Reverend Chad Kroeger: Brotherbag FT16W20. And by FT16W20 I mean if he gets caught with Josslyn 16 will get him 20 in the statey.
Wheezer: Edgar and Josslyn in a landslide, and by landslide, I mean hair grease spill. BP hasn't quite capped that leak, though another kind of "BP" is in Edgar's nightstand…..it vibrates, and Josslyn usually has little to do with it. Just as long as it doesn't muss his hair.
Charles Nelson Douchely: I'm a sucker for the classics.
Douche Boyardee's Cheese and Bagaroni: someone remind me to pick up some Draino after work.
Ohio FJ: Brothabag Edgar FTW – he brings it all to the table
Amerigo Vesdouchey: I was just getting over a hangover the first time I saw Edgar and his nauseating visage brought it back. For that he must pay. I hate being hung over (but not enough to quit drinking).
Indeed, and while the Brothabag may be more a tale of Arabian Blights, his blowout, and Josslyn's innocence, were too dominant to halt in their march to the Monthly. Yet there was dissent, as The Spud Douche found mock:
End the Haberdouchery: My brain says Edgar, but my heart says Spud. His alpha-male facade cannot hide the fact that he's 19 with a receding hairline. Melissa and Clarissa would fulfill my barely legal fantasies by being horribly awkward in bed and then asking me to make them Easy Mac afterward.
MoeDouche: The Spud Douche FTW. Just 'cause the lesbo action is worth looking at over, and over, and over…
justadouchalo: While douche indicators are many and varied, ignoring the smoking hot girl, or in this case two girls gone lesbo, sitting next to you to stare stupidly at the camera is the the litmus test of douchebaggery.
Spud ftw.
boondoggle: Spud FTW if for nothing else, for showing us what it would look like if Ali Larter gained a few poinds in all the right places and made out with other hotts.
The Spud would've won in a normal week. But this was not a normal week. The Calibag and Paid-to-Pose Pamela got so few votes, it was a total Edgarpocalypse. Lets let Mr. Bungle take us home:
There is no doubt in my mind that Brothabag Edgar is the clear winner this week. I also move to induct him into the hall of scrote immediately. Never have I seen such a specimen of asexual bagness. It's as if Beyonce and Dave Navarro somehow fused into one being. Send Josslyn to me immediately so I may brush her raven bangs aside as I butter her shoulders with Country Crock. She deserves better than I can't believe its not butter.
Well said, Mr. B. For it was ordained in the Book of the 'Bag that it is Brothabag and Josslyn. We'll see that horrible blowout and poor barely legal cutie in the Monthly. And your humble narrator for Cheerios.