Wednesday, August 25, 2010
HCwDB of the Week: DJ Jerzey Jackoffsky and Jenny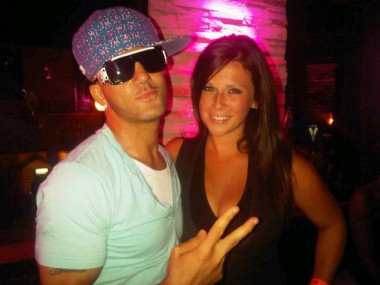 While a voting scandal broke out, as Supermoobs appeared to also be one of the Four Dwarts, it was a solid win (loss) for the D.J. Jerz with the clown hat and sweet, wholesome yet sultry Jenny. The voters speak:
armydouche: The sunglasses glasses in a dark environment, that hat, the smug look of self rightous deserving; DJ Jerzey. He's the only one of these 3 with a chance against the douchernaught known as edgar in the monthly.
mr.reeve: Dude has 70s style curtains wrapped around his head like it's a hat. Pastel V-neck shirt, Kool Moe Dee shades and a shirt underneath a shirt
Dicy: I'm going to go with DJ JJ because he reminds me of this dickhead I used to know. And Jenny is quality cute and sexy who needs to be rescued ASAP. I will take the challenge of saving her!
Douchelips: Ridiculous hat even your little brother wouldn't be caught dead in? Check. 90 degree hat tilt? Check. Stupid sunglasses from the late 1980's? Check. Idiotic 'bag hand gesture? Check. Bulging tatted bicep? Check. Aqua colored shirt that need ironing? Check. In 'da club? Check. Then there is Jenny, all sweet and innocent with her understated bosoms and "I'm unsure what I'll catch from this guy" look. She has a sense she needs to run for the hills….and fast.
melvil duchi: DJ for the hat tilt and glasses alone. They look like $2 3D glasses he got from the Gas 'N Sip
Colossus of Choads: Jerz. Combo of the 'tude, the apparell and the final straw – shades inside.
End the Haberdouchery: The blouse, bedazzled hat, and the "I haven't shaved for three weeks" shadow make him irresistible to bar skanks and Richard Simmons alike.
Battlescrote Galactica: Jerzey Jackoffsky is cookin' DB's like a pound of bacon, with his Jiffy Pop hat, Kool Moe Dee glasses and his Ice Ice Baby, "collaborate and listen" Vanilla Ice mug… We can only hope Jenny has enough sense to stay out of his 5.0 so his hair can blow!!!
Amerigo Vesdouchey: Gotta go DJ JJ. Because there's nothing about him that's not douchey. And Jenny. But mostly Jenny. Thoughtful and still sultry at 31. And looking like she holds at least 8 more years of hott. So what if she had a few too many cosmos that night.
Nicely parsed, 'bag hunters. This was a vote for classic club douchepoo. Coming in a solid second place, the Vegas greaseballs and quality bikini boobies of Snowe Blonde and the Four Dwarts:
Douchey the Great: I'm voting for the Four Dwarts. I live in Florida and I have to witness this sh#t every f#cking day. On the beach, mowing the lawn, hanging out on the porch everywhere they prance their pecs, tats and tans like mutant peacocks. I need two shots of whiskey, one to drink and one to splash into my eyes.
One for the Choad: Snow Blonde gets the win for two reasons. One, she's clearly in on the joke, and she bags four supreme choads in one shot. And two, her boobs should her their own national holiday.
Anonymous 3:16: While the stomach churns at the mere sight of supermoobs, I'm going to vote for Snowe and the 4 – because they are too representative of everything we strive against, too far reaching in their scope, too….douche as a collective.
Paul Muad'douche, the Kwisatz Scroterach: Apparently as a public service, the Dwarts and Blondie choose to hang out with roughly 40% of the nationwide cases of chlamydia at the Vegas Pool, so those of us without a burning sensation when we pee can more easily avoid a troublesome appointment with the urologist.
Many pointed out that two of the Four Dwarts are the same as the Supermoobs 'bags. Perhaps. But the different locations and tactics are enough to let them carry on as seperate douche entites (for now), so the judges will let the competition continue.
doucheywallnuts: Just as Dustin Hoffman fooled the world into thinking Michael Dorsey and Dorothy Michaels were two different people, Supermoobs/Roofie has done the same. For this reason alone he should be crowned DBotW.
Eliza Douchecoo: Since Supermoobs is a finalist twice I gotta go with him for the win (loss). If you're in the finals running in two separate photo-scenarios posing it up you GOTTA be a douche nozzle. Supermoobs FTW.
Wedgie: Supermoobs = Roofie. Bobbin = Dopehead. If these two assclowns are in two of three pics, surely they deserve a weekly (or is that weakly?).
dbBen: Sweat-stain on his shirt:Supermoobs::Creation of Adam:Michelangelo. Definitely a derivative work, but it doesn't diminish its relative importance.
Bag Margera: for the Cassie sisters, this is the kind of picture that would make them cancel their facebook account.
The Reverend Chad Kroeger: And I come down to deliver them out of the land of the Egytians, and to deliver them out of that land unto a good land and a large, unto a land flowing with milk and Supermoobs, unto the place of the …….. Jebusites.
The Supermoobs will definitely appear in all their sweaty undercarriage at the 2010 Douchie Awards. But this week was classic Jerzbag and confused urbane hott cohabit. Lets let Mr. Scrotato Head take us home:
D.J. JJ and Jenny get my vote if for no other reason than their comingling will produce so many regrets. Jenny will regret passing on that overtime shift at the call center so she could go clubbing. She'll regret giving the dumbass with the goofy hat more than a fleeting glance when he drifted over and sat down at her table. She'll regret leaving her glass more than half full when she went to the ladies room. She'll regret telling her friends to "go'on w'thout me. I'm FINE! Isn't he hot!?!? WUPPEEEE!" And, as she stares with tears in her eyes at the pee coated plastic wand, she'll regret not listening to her roommate who kept trying to get her to take her birth control pills regularly. D.J. JJ will regret not buying the matching Hammer pants off the clearance rack when he had the chance. Life is hard; D.J. JJ is not. But he wins anyways.
Indeed he does, Mr. S.H. Chalk up our first competitor for Brothabag Edgar and Josslyn at the next Monthly, and your humble narrator for Corn Pops and scratching.