Tuesday, August 3, 2010
Reader Mail: South Africa Has a "Legend and an Icon"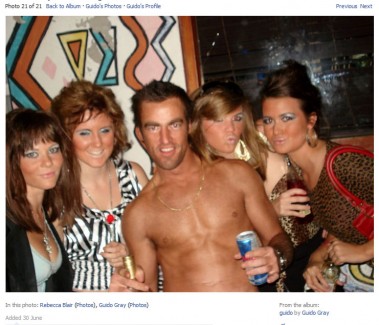 Momoko writes in from South Africa:
—–
DB1,
This is a current pic of a guy my sister briefly went out with. He is 29 years old, just come out of rehab and has a 6 year old kid. As you can see from the pics, he's not exactly on the wagon.
When my sister decided she didn't want to see him again after he flaked out on her birthday party, his tactic to get her back included the beseeching phrases, "I'm a legend and an icon. You'll never find abs like this again. I'm your big ticket to being one of the cool kids." that is a direct quote.
PS. He changed his user name on facebook to Guido G___
– Momoko
—–
Sadly, more and more countries report Grieco Virus infestations.
Of note to ethnographers and historians in academia, the countries least effected by Grieco Virus are currently Prussia, Istanbul (not Constantinople) and Xanth. Because Grundy the Golem is having none of it.