Tuesday, August 17, 2010
Sam's Troubling HCwDB "Costume" Party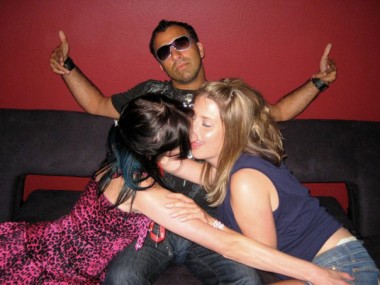 ——–
DB1,
I finally threw that HCwDB costume party I emailed you about and it turned out very well. I wanted to share the pictures from it, they look quite authentic.
In the kitchen, I went for a fratboy Douche vibe, with a keg, the red plastic cups, rail alcohol, and college posters (i.e. girls with big boobs). As it turns out, I still have the posters up, realizing a certain affinity and nostalgia that persists (my inner Douche).
In the living room, it was club Douche and in finding tracks to download and spin, I created a Douchebaggery Pandora station. My discovery: Haddaway's "What is Love" is the key that unlocks all things musically douchey. Also, I had a projector showing movies in the background, and I chose the following films:
The Fast and the Furious, Top Gun, and Rocky III.
I realized that whenever there is a movie with men "glistening", it's going to be douchey.
Last, I had a side room which acted as a V(ery)VIP room, replete with a velvet rope and 'bottle service'. I realized that I really liked keeping a guest list and deciding who gets into that room, again tapping into my inner Douche.
Anyway, thanks for being the prophet that you are and also hearing my confessions. The party was a lot of fun, and in the end, I realized it's a great way to get my girlfriends to dress slutty 😉
-Sam

————
First off, Rocky III rules. It is not, nor will it ever be, douchey. Secondly, there's a fine line between mocking 'bag culture, and becoming 'bag culture, Sam. You have tapped your "inner douche" a bit too strongly, and I fear you've gone to the scrotepud side.
Be careful. For when Icarus flew too close to the sun, his hair gel caught fire.