Tuesday, August 24, 2010
The Neo Primitive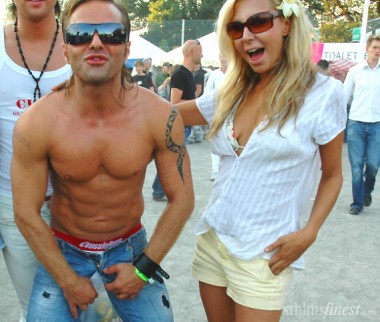 One of the academic terms of discourse regarding scrotepuddery that I've been recently developing is the concept of "The Neo Primitive."
By this, I mean a hybridized and schizophrenic inscription of the body as simultaneously both contemporary, postmodern and intertextually aligned with a broad media landscape (brand-name identification, logos, pop culture iconography, etc.) and yet a highly primitive marking of the body to echo that of ancestral cultural masculinity.
This concept breaks down along two competing, seemingly paradoxical axes of dissonance in terms of identity:
1. The overwhelm of virtual life in the mass media age has led some to attempt to reclaim their bodies through extensive markings, piercings, tattoos, etc. This is an effort to reinscribe the flesh as fully real by confirming its uncontestable reality outside the virtual realm. In other words, in the age of existence as defined by an image shared on Facebook or a comment published on Twitter, the body itself must be marked/scarred (via tattoos, piercings) to re-experience the incontestable realm of sensorial experience.
2. The paradoxical tension between a highly advanced society informed by the fetishization of gadgetry (iphones, droids, etc.) versus the collective hallucination of primitive tribes sold to us through that society as representative of the ancient and primal past of myth and legend. This emerges as Maori tattoos, nose piercings and other assorted signifiers of cliche tribal "primitivity," and gender roles grounded purely in the biology of the physical.
The use of the body as an irreducible object via the rites-of-passage signifiers of pain, inscription and mutilation (piercings, cuts, implants, tans, dyes, etc.) renders the body as uncanny. The body becomes the site of an active response to the privileging of the virtual, the technological, and the creation of identity in the abstract realms of the online and mediated. The body markings cannot be undone. They reassert "the real" as well as the agency of the inscriptor to "take control" of his body in an age where the body is removed by technology and society. It is an active response towards one's "self" as a space for contested sites of power.
If society overwhelms the individual through the cacaphony of the virtual, the individual responds by invoking the primitivity of the nostalgic pre-industrial past. On his own skin and muscles. It is both a callback to the primal mythic past at the same paradoxical moment it fully acknowledges the schizophrenia of the modern experience.