Thursday, August 12, 2010
This Week in Basebaggery: Update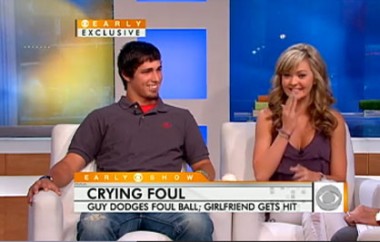 Yesterday we watched the story of Texas Hot Chick Sara who got beaned and her douchey boyfriend, Bo, who smirked it up afterward.
Today they appeared on The Early Show to reveal:
——-

Appearing on CBS' "The Early Show" on Thursday morning, the running Romeo and jilted Juliet hemmed and hawed when asked by anchor Harry Smith if they were still an item.
"Well, I mean it's not over because of the ball," she said before trailing off.

——
Lets hope it's over because of that chin fung. Video here.