Friday, September 3, 2010
Black Bikini Heals All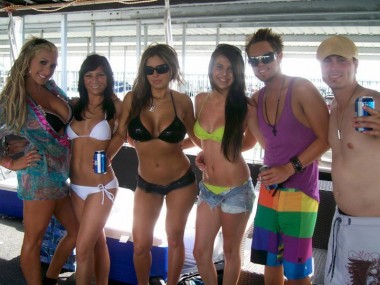 After that Meanclown Sandwich in the Haiku, we need a little bikini hott with some relatively innocuous pudsters to cool us down.
Rayven in the middle cures lupus and gangrene with boobie suckle thigh power. Hers are the shoulders of ubergnaw.
Her younger sister, Kelly, ain't so bad neither. Text me after midterms, Kelly. There's a ragin' kegger. Somewhere I'm sure. I just don't know about it. Because I've been out of college for well over a decade now.
A special hearty handshake from the collective unconscious goes out to the inventor of tiny jean shorts unbuttoned to reveal bikini bottom.
Lets us all bow our heads and give thanks to Adonai, Gaia, Lilith, and JSUBBR (Jean Shorts Unbutton Bikini Bottom Reveal).