Friday, September 3, 2010
Friday Haiku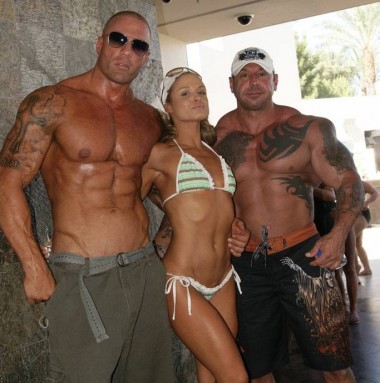 Hungry Tendon Ted,
Mutant pea nip grease sandwich,
Sally still 'rexic.
Pneumatic Meatpuds
An impotent scowl-a-thon
with Bimbo Light
— douches wild
Still hurts when I pee
Crotch shave will impress indeed
Stupid tats for me
— wonderdouche twin
Labor Day cookouts
bring threat of grease fires? Why is
the Kingsford oily?
— Wheezer
Dude, how many carbs
In this bottle of water?
Asks tattooed genius
— Vin Douchal
Muscles compensate
For freakishly small nipples.
Ted masters derp-face.
— End the Haberdouchery
We have the hostage
My pepperoni nipples
Will call you at eight
— saulgoode42
Buffet Line Betty
Likes steroid Meatclown sandwich
Pass the Douche Poupon
— Battlescrote Galactica
Chodester taints love
Flexing muscles for camera
I am ready for pear
— mr.reeve