Friday, September 10, 2010
Friday Thoughts and Links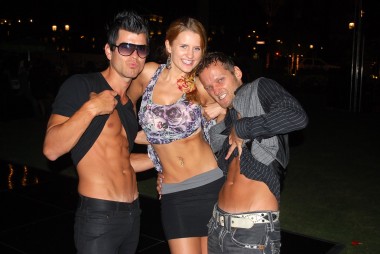 As Friday drifts into eve, and the notion of stupidheads who show their abs to every passing camera rattles through my subconscious, your humble narrator stares out at the muggy skyline of Los Angeles.
And watches as summer turns to fall.
By which I mean the temp goes from 80 to 77.
A crisp breeze brings with it the smells of desert cactii. And actor flopsweat desperation pretending to be sense memory. And directors bragging about movie deals at dinner parties.
Another day up in the canyons. Another night in Hollywood. Man, did that band suck.
Here's your links:
HCwDB DVD Pick of the Week: Tofutti Break!
Neil Hardy can't believe his urban cred hangin' with the homies wasn't enough to win him, and Des Moines's finest barely legals, the HCwDB of the Week. Sorry, Neil. Maybe next time.
Jose Canseco stars in Hot Chick with Roidbag.
In tracing the early manifestations of the 1980s Grieco Virus, let us not forget the iconic proto-douche of animation fame, Gaston. And let us not forget the Palace with the Phallus. Or naked Jessica Rabbit. On frames 2170-2172 on side four of the laserdisc. In case you wanted to check.
Phil Davison really, really, really wants your vote.
Arthur C. Clarke sees the future. No mention of Perez Hilton or TMZ.
More nerd stuff: The Doctor Who theme via electrostatic charge.
In sad news, the great comedian Robert Schimmel died after a car accident last week at the age of 60. Here's the great Mr. Schimmel in the 1980s Young Comedian's Comedy Special. Like Kinison and Hicks, he was one of the 80s greats to leave us too soon.
From England, Lil' Mac demonstrates how to be a 'bagling with a British accent.
In weird strange randomness, here's a pretty great urban art project animation. It's my happening and it freaks me out!
Okay, enough weird-ass randomness. Here's a double pear in hi-res that is surely worth a celebration of collective gnaw:
Mmmm… it's like two tiny orbs of fleshy planet grappling with the curvatures of space/time paradox.
Enjoy. Gnaw. For the weekend is upon.