Friday, September 17, 2010
Friday Thoughts and Links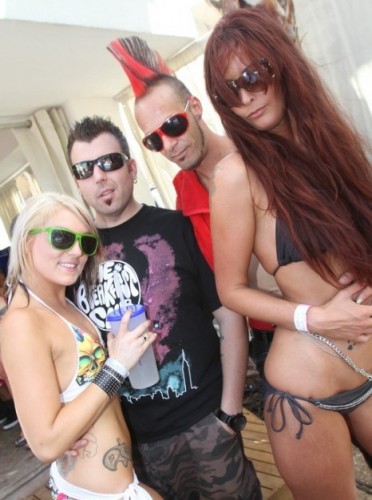 Your humble narrator is spending this Friday in meditative repose.
The city of angels weeps for the stupid people. But I don't. I mock them. With you. Together we mock. And the world clarifies a little sharper into focus, even as the blurring of age hazes the margins.
Here's your links:
Your HCwDB Gamer Pick of the Week: Would you kindly?
Cheers to Australia! The Aussies continue to lead the War On Ed Hardy with a major victory scored. Now stop watching all those crappy British soap opera imports. EastEnders is for tossers.
The actual Ed Hardy gets respect from UCLA and academia. And the ghosts of Adorno and Horkheimer weep.
The Daily Show goes to Staten Island, finds 'bags, Bleeths and Yankee Caps. The great Wyatt Cenac investigates.
Proto-douches in History: Butch from The Little Rascals.
Yom Kippur is here. I must atone for all my sinful thoughts involving Mila Kunis, a bottle of Jergens, a rubber cheese grater and a small Armenian midget named Antran watching, handing out towels and making sarcastic wisecracks the entire time.
At last Sunday's Video Music Awards on MTV, Kanye West unveiled his new song, Lets Have a Toast For the Douchebags. I'd like to think last year's award had something to do with it.
Speaking of pop stars, flash-in-the-pan 2004 one hit wonder John Mayer quits Twitter. He's taking his bandwidth and going home. And is still a douchebag.
I find Katie Perry as boring and neutered of reality as reading the Washington Post, but I can no longer deny the power of boobies. They are pavlovian pull, even as she continues to offer the blank genericism of castrated pop pablum.
Justin Bieber is the most annoying teen starlet since Gidget.
And this week, as per a reader request, instead of the glories of Ass Pear, you get a special three-treat of side boob gloriousness. Enjoy:
Peek-a-boob in the park.
Peek-a-boob at the beach.
Peek-a-boob by a tree, art style.
Enjoy. Go forth. Conquer. Sip Night Train.