Friday, September 24, 2010
Friday Thoughts and Links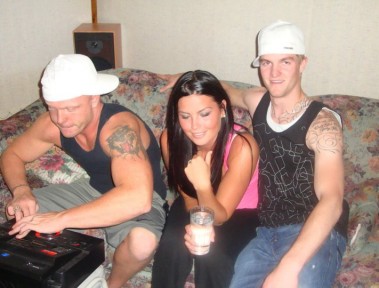 Your humble narrator reclines on his dirty rug and contemplates the waterstains on the wall.
Much like The D.J. Clownscrote Twins, hanging in their basement and attempting to impress Stephanie, if you stare at HCwDB toxicity long enough, they begin to spell out universal truths on their collective abdomens.
Like the fact that no matter how hott a hott chick is, she still has to pee. Or the realization that nectarines are simply angry plums that failed the GRE and have to take remedial courses next summer.
Here's your links:
Your HCwDB DVD Pick of the Week: Life clocks are a lie! Carousel is a lie! THERE IS NO RENEWAL!
Eagle eyed reader Johnny Depp Douche tagged a 'bag license plate on the way to work.
There are many important moments in the 1980s teen sex comedy oeuvre. None are more important than the Zapped fart.
Fellow 'bag hunters, we must fight harder. We may be losing the war.
More from Douchebaggapalooza 2010: Nickelback and Buckcherry, together in scrote.
Yankee Caps and crime. Like a horse and carriage.
Scientists develop Spray-On Clothing. Important medical development or next-gen douche tool?
Speaking of giant vagina creatures in modern Hollywood action films, is there anything more amusing than Brendan Frasier getting attacked by giant vagina plants in Journey to the Center of the Earth? It's like a small dose of visualized Freudian theory in the middle of PG-13 wasteland.
The Legend of Gator Face. Not quite what I was expecting.
Luxury Laces. For when douchebags need something else to overspend their parents money on.
This week in Hot Semitic Librarian future ex-wife of the DB1: Michelle Trachtenberg. Mmmm.
But enough about Hot Semitic Librarian types. You know what you came for. And here it is:
Go forth. Go forth and scratch upon this Friday eve. Your humble narrator will be here tomorrow with more mock and more hotts for your approval.