Monday, September 13, 2010
HCwDB of the Month
Bring it. Have some. Pie. Have some pie. Four couplings of hott and choad to make it this far. Only one may advance. Now it's your turn to choose our next contestants at the 2010 Douchie Awards for HCwDB of the Year. Here's your finalists:
HCwDB of the Month Finalist #1: Andrew's Bro and Kaitlyn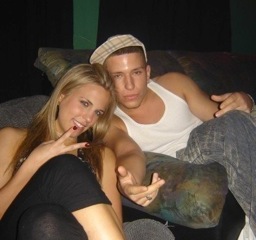 Although the run with hotts is both impressive for its wide variety of hottness, and extreme display of suburban unemployed still-lives-with-mom doucheyness, it's hard to say Andrew's Bro and Kaitlyn aren't longshots in the Monthly.
Still, it's not outside the realm. And don't underestimate the sympathy vote, since Bro was turned in by his Bro, Andrew. Witness the run: Brobag #2. Brobag #3 and Brobag #4.
Especially those saggy pants with ass bite in pic #2.
And Kaitlyn is what I like to call the Canadian Superwhite Teeth Hott. I don't know what kinda flouride they put in the water in Canada, but their hotties have some of the whitest, strongest, most Aryan teeth I've ever seen. They are pure quality lickable teeth. And Kaitlyn may be obsessed with "The Girl With the Dragon Tattoo" because "Entertainment Weekly" said to be, but I wouldn't judge her for that.
HCwDB of the Month Finalist #2: Tendon Ted and Ass Pear Annie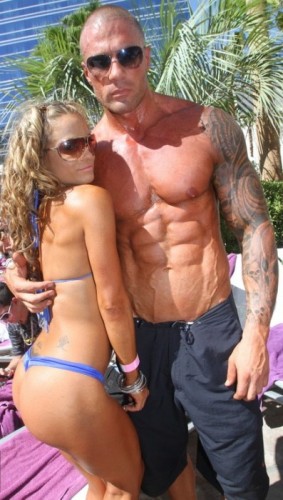 Tendon Ted is all that is pumped up, angry and Groin Shave Vein Revealed retched about Vegas Pumpdouche.
Ass Pear Annie shakes her moneymaker with fervent aplomb.
Together, they form a classic Vegas HCwDB combo, and would represent well in the Yearly.
And by represent well, I mean cause penguins to upchuck fishheads onto snowy frozen tundras.
And lets not forget Tendon Ted's second appearance on the site, with Mutant Pea Nip Nathan and Sally.
That's a strong two pic run. But enough to gain entrance to the yearly? Not if the next two couplings have any say about it.
HCwDB of the Month Finalist #3: DJ Jerzey Jackoffsky and Jenny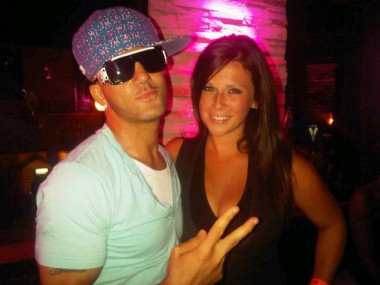 From Vegas roid douche we move to classic Clubland Choadscrote, in the visage of D.J. Jerzey's toilette hatt and the sexy, sultry, amazingly chew shoulder meritocracy of Jenny.
He is all that is $1500 to play Gloria Gaynor at the Schmidt/Leopold wedding at the Holiday Inn off Route 9.
She makes your poopoo do the peepee dance. And that goes for you lady 'bag hunters as well. For her smile bespeaks sunrises and rainbows and crack addled ferret hump
But is this a real coupling? Or was Jenny just passing the D.J. booth on her way to the bathroom to get away from her BFF's hookup's best friend's unwanted advances after the MMA fight ended prematurely?
Lack of real coupling possibility always diminishes HCwDB affect on the psyche. So that could detract. And then there's coupling #4:
HCwDB of the Month Finalist #4: Brothabag Edgar and Josslyn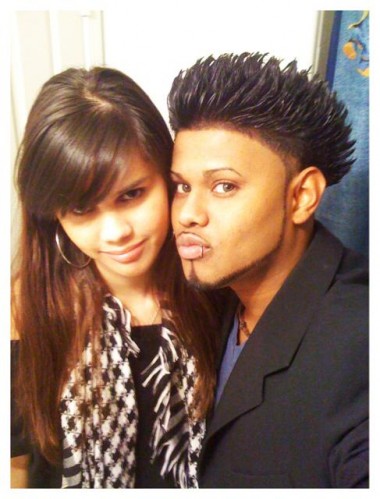 The favorites in the Monthly, but by no means a sure thing, Ambiguous Brothabag Edgar suggests Persian Blights by way of Let Your Soul Glo wrongness. Josslyn is barely legal temptation, but she will be a tempest in a teapot when she graduates college. Witness the run of Brothabag spectacle: Brobag Edgar and Josslyn #2, #3, Edgar and Josslyn who may not be Josslyn , #4, purple kissy lips and Experimenting With Plaid.
Yuchs.
That's a spicey douchebag.
But then there's the disturbing factor. Is Brothabag Edgar so noxious, so awful to contemplate, that voters will rebel, refusing to continue the mock simply so we never have to consider his reality as a semi-sentient being on this planet again?
On the Hott side of the ldget, Josslyn is a good girl, but is not the overwhelming sexy that we see in other pics. Does that detract?
Can the Brothabag who may not be a Brothabag take the prize?
Now I turn it over to you.
Vote for your douchiets/hottest coupling, as always, in the comments thread.