Monday, September 20, 2010
HCwDB of the Week
Coming off last week's Monthly, in which Edgar and Joss carried Orange Brothabagedness to a well deserved monthly win, we have some choice cuts of hottie/douchey wrongness this week for your perusal. Your finalists are:
HCwDB of the Week Finalist #1: Joey the Orange and the Judith Sisters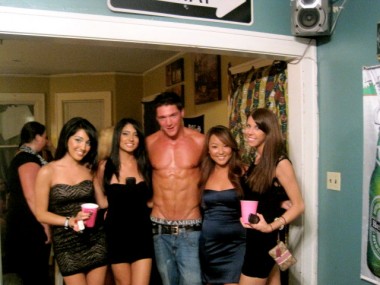 Toxic Orange Groin Shave Reveal = Reason #43 that Daoist Monks are bitchslapping each other rather than meditating on the silent Om.
For when Joey the Orange is out there, the silent Om reverts to the very loud mock.
And that is as it should be.
For he is poo. And lets not forget Joey the Orange's bonus response in the comments thread, which called us "losers" and led us to this.
The Judith Sisters all pledged Kappa Kappa Woo two weeks back when Sophomore Year started. And this is their first party. And they hate their dads.
HCwDB of the Week Finalist #2: Mister Liptatt and Holly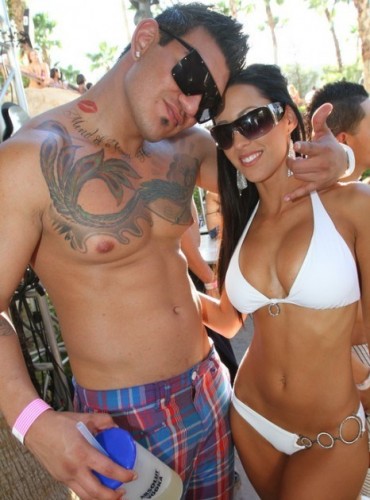 Neck lipstick tatts.
Douche.
Sure, I could try to be more creative in parsing the distinct level of 'bag here. But lets just call it what it is. Arthritic shoescrape.
Mmm… Holly.
I would body surf through an ocean wave of phlegmatic snails just for the chance to file the missing sudoku squares left behind by your Aunt Belinda after a particularly exhausting game of assisted living Parcheesi.
Yup.
No idea what I'm saying anymore.
But Lipstick Tatt Douche with "gangsta" pose is highly qualified for Weekly mock, and Holly's curves are lemonade milkshake wonderland dreamboat chewtoy gnaw.
HCwDB of the Week Finalist #3: The Abercrombag and Clarissa
Clarrisa is lean and mean perfectly taut and tan the reason you hate your girlfriend hottness.
The Abercrombag inherited more than you make in a year. And then blew it on tequila and blow.
Tequila and Blow being a folk duet out of Austin. You might remember their 1974 hit, "Sunshine Isn't Just for Lovers."
Okay, now I really have no idea what I'm writing.
But back to this coupling. We all hate the Abercrombag's retch. We all want to pooch lick Clarissa's pot belly potty bell.
Add it up and it's a worthy toxic swirl of hottie/douchey commingle.
But enough to win the HCwDB of the Week? That's where you come in.
Just missing the cut were Tough Guy Chase, the cryptogaybaggery of The Taterbag and Tonya, Joe Flannel and Francesca, the odious Canadian Kleenex Mafia and Hipsterbag Michel.
Three can enter.
Only one coupling can rise to the top/bottom of your coffee creamer sugar swirl.
Which will it be? Mister Liptatt and Holly? The Aberbcrombag and Clarissa? Joey the Orange and the Judith Sisters? I need your help. I can't do this alone.
Vote, as always, in the comments thread.