Wednesday, September 1, 2010
HCwDB of the Week: Tendon Ted and Ass Pear Annie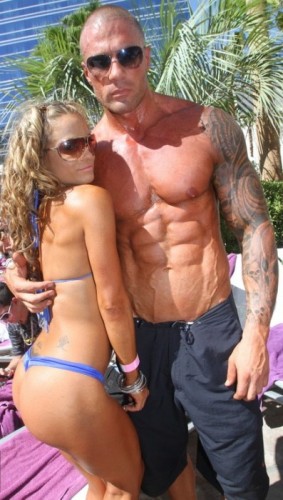 Exploiding groin veins. Sleeve tatts. And curvy female buttitude. Together, they make HCwDB of the Week.
The voters speak:
Ultra Bagnus: Tendon Ted FTW. Beacuse his permanent scowl is a direct result of his asymetric abs. And yet somehow, he pulls in a pear like Annie? Yes, that is douche power on display. And by display I mean veins.
dblpits2teste: I'm just jealous of his lopsided 5-pack. Plus, I have very small arm veins and would love to tell the Red Cross nurse: "other nurses usually have trouble with my arms, but I have great veins in my scrotum". And Annie just has that girl-next-door, take home to meet your mother innocence.
Anonymous: When Ted and Annie remove their glasses, you stare into empty pits of blackness. Soulless vortexes from which you can hear the chanting of a thousand douchebags lost to the world.
DarkSock: Tendon Ted has found the way to reverse O.G.D.T.S.B.S. (Old Guy Dangling Tube-Sock Balls Syndrome): grow a nut harness out of your groinular vascular network so that your crotch looks like a cypress stump shrink-wrapped in HeadStart macrame projects.
Sack O Douche: I love ass and Annie's got it. I hate blank robotic roid heads and Ted's got it.
Troy Tempest: Tendon Ted and Annie. Her knees are bent and she's bent over because otherwise she'd be a half inch taller than Ted. She is as slutty as he in douchetastic.
Maxim Kovalenko: Tendon Ted, the tattooed Terminator douche for the win. God, what a creepy bastard.
Elderdouch: Has anyone noticed that he is missing some fingers?
Tall Guy: Tendon Ted probably cooks in a rooming house all week and practices his deadpan stares on the vulnerable residents. They're all frightened of him because he has a bench press set up in that vacant room next to the laundry and sometimes leaves the door open when his pumping iron.
mr.reeve: Roids, sick workouts at the gym, zero personality and bangin pool sluts is how TT the Robochoad does it all summer long in Vegas
Turdacous: holy mother of Slime. hes the opening circus side show freak act for a snake oil salesman. Ted by a mile for the win and i mean mile as in dragged behind a team of clydesdales through death valley in july
RAPETIME: plant or human, if I see something like Tendon Ted, I'm getting a can of gasoline and matches and burning it to ash, and then calling the CDC.
Fatness: I'm voting Tendon Ted and Ass Pear Annie, even though I am still not sure that Ted isn't really a potted plant growing next to the pool. Annie is a purebread skank but that ass is first-class.
Whoop-Di-Douche: Their award is a topographic map of the western United States.
The Reverend Chad Kroeger: Tendon Ted is angry. Tendon Ted is the only man living in the modern world with a metabolism measured by light speed. Tendon Ted for the thin.
Eliza Douchecoo: My vote goes for Tendon Ted, if there was a vote for "most likely to commit suicide" he would most definitely get my vote for that too.
Ol' Dirty Douchebag: It's like he's turning inside out before our eyes. I'd like to think that twenty minutes after this picture, he completed his metamorphosis resulting in his entire pulmonary system sloughing off on to the floor in a gelatinous mess and making Mola Ram insanely jealous at the same time. Or maybe I just need to get more sleep.
Wasn't there a shlock b-grade horror film from the early 80s like that, ODD? Nicely played. There's something about ab-crotch veinitude that just deserved extra mock, and ass pear is always ass pear if it's quality. Coming in a second, perhaps ultimately too goofy to win, was the Conan O'Brian-esque Jungle McDonald and the Britney Sisters:
Charles Nelson Douchely: Jungle McDonald, for perfectly pulling off that morning zoo crew look. The Britney sisters quickly realize that knowing the phrase that pays was not a benefit. "OK. We've posed for the picture for the Power105 Wall of Weiners. What else do we need to do for those Black Eyed Peas tickets?"
skrag2112: Jungle McDonald for his combination of circus attire and derp face.
melvil duchi: Jungle is only a pair of crappy sunglasses and a tribal tat away from full on uberdouche. Britney Sisters – step away from the GSR
Et Tu Douche?: The Britney's are local Athen's OH wholesome, fun loving, enthusiastic, giggle Hott OU coeds who probably have no idea who Robert Plant is and just happened to be in the wrong place at the wrong time wondering who the hell is this guy and why are we posing in a picture with him?
Mr. White: I'm going with Jungle McDonald. The Britney sisters are the only hotts that are really working for me, although maybe it's because I'm grumpy on my first post-vacation day.
Blinded by the Shite: Jungle McDonald and Ms and Ms. Britney, as I only noticed Jungle McDonald and his quadruple chins just this moment.
I had thought Jungle McD bringing A-List Hott and goofy face was a shoe-in for the Weekly. But Vegas pud trumps all. And in third place, but with solid votes, the Southern 'Bag of Brad Pudt and Eliza Hottku:
Alex: A holstered blackberry in the front and a holstered vodka bottle in the back… because real men drink vodka, orange drink and pop rocks, yo. Your linen shirt is unbuttoned, showing your chest hair? Nay… it's your douche-tatt. You're wearing a rosary. I'll pause while everyone makes their redneck southern baptist jokes.
FreakPatriot: Eliza is take-home-to-mom knee-gnaw hottie-suckle who I would worship as the goddess of my hearth and home.
Dave : Brad Pudt and Eliza for going against the grain and achieving excellence in douche status without having to flash an ab. muscle.
mehoff: Brad Pudt. The Cellphone Holster.
Captain Lame: I gotta be honest, I dig Eliza. Her brows are Marilyn Monroe style cuteness, and I want her to be my everything…
Anonymous: Brad Pudt. He's more of a real world douche than the other two, and it makes that much angrier.
Guns-N-Douches: Brad Pudt gets the nod, for the rosary-as-jewelery douche-pas, the flash wall tattoos, effing retarded rapist-'stache and the ultimate, no-way-he-ain't-a-douche accessory, the multi-finger ring. Eliza isn't the hottest hott, but chicks in acid washed denim remind me of high school, and making out in the back seat of my mom's car with Warrant on the car stereo.
G: anyone that would spoil Orange Crush with Goose (assumed), deserves to be called out as HCWDB of the week.
The Pudtster did his Fu Manchu Best, and Eliza was real world hottness. But this was Vegas Poo and Pear time to shine. Lets let Choadthedouchesprocket take us home:
TT and APAnnie ftw, because they are all that is holy and sacred about the pay to pose mudflaps that populate the Vegas pool party/dayclubs throughout the summer….and by "sacred and holy" I mean they are the flotsam and jetsam of pool party poo…
Indeed, Mortimer. Indeed. Mark Ted and Annie up as our third selection for what's shaping up as an epic HCwDB of the Month, and your humble narrator for crotch scratching.