Tuesday, September 21, 2010
JaBooty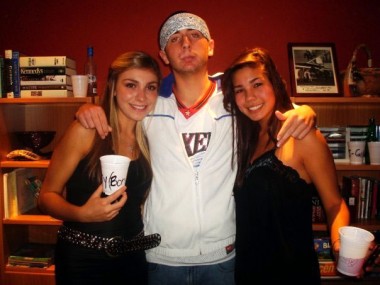 JaBooty wanted to take time out of proving his hip-hop bonafides to Carly and Kimmy at the Back to School party at Wellesley College to address all of us.
What did you want to say, JaBooty?
JaBooty: Y'all keep talkin' smack, yo! Ya know, I mays not have any of that fancy stuff like a "college degree," or "income," or a "job," or a fully functioning cerebral cortex. But I got somethin' ways betts!
What's that, JaBooty?
JaBooty: I gots inner peace! And a Tootsie pop for lates when I get hungry walkin' home. Stupid bus fare increase.
Anything else you'd like to tell the readers of HCwDB, JaBooty?
JaBooty: Y'all ain't got nothin' on me! I'm like King Kong! King Kong ain't got nothin' on me! I saw that in a movie once.
Was it "Training Day"?
JaBooty: Naw, it was some porno. Hey, you got any potato chips?
Not right now.
JaBooty: I likes potato chips.