Monday, September 13, 2010
Joey The Orange Reveals Groin Shave Cataclysm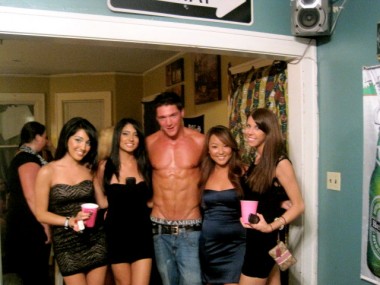 I almost didn't have the cruelty to post this pic of Joey The Orange revealing his Groin Shave for the Judith Sisters at the Sorority Homecoming.
But then I realized that G.S.R. is the most toxic of 'bag developments in 2010.
And, no matter how painful to the psyche or destructive to the spirit, we must witness hot chicks dealing with this crisis of modernity.
But to ask your forgiveness for forcing you to witness this transgression against God, Vishnu and Pastafarians everywhere, I offer you, not one, but two pears:
They are a mere temporary soothing balm on the cataclysm of poo unleashed by G.S.R. plague.
EDIT: Joey the Orange responds in the comments thread:
Haters.. they make me famous! =)
im actually a really nice guy.. had a great night.. glad i could contribute to this lame site .. have a nice day lol