Wednesday, September 8, 2010
The 'Baggle Axe Trading Card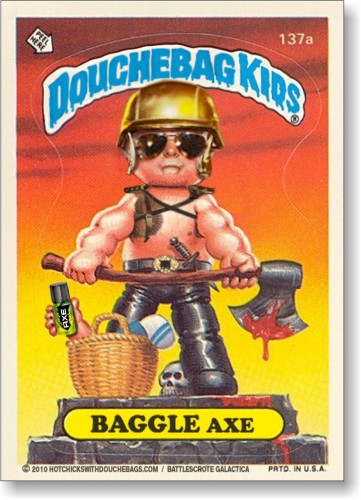 HCwDB's own Battlescrote Gallactica has taken inspiration from an old Garbage Pail Kids card to create a tribute to HCwDB near-monthly-winner The Baggle Axe.
Excellent work, B.G. A brilliant mock.
A few years ago, the great Jean Claude Van Douche similarly created a number of HCwDB Trading Cards, including The Oompa Prompa, The Ghoulbag and a brilliant one for The Gator that I can't find because I'm a technical luddite (A URC of 'Train to the first 'bag hunter who links to it).
Have a fun HCwDB photoshop idea?
Create it and send it on in to HCwDB, and you could win… a new car!*
* New car not included.