Tuesday, September 14, 2010
The Tater 'Bag and Tonya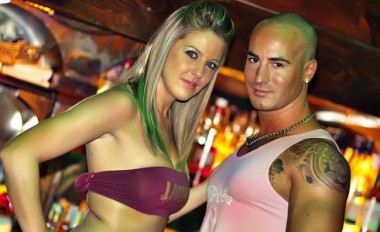 Tater 'Bag is definitely toeing the Gaybag line with the pink hued sheer cling. And, as you know, we dismiss Gaybags from the douche-mock for posing no legit threat to the hott.
However I'm not sold on the Tater 'Bag being Gaybag. Methinks this may be a variation of "Gaysquerade," in which 'bag imitates gay to score hott.
Mmmm… Tonya… your blank stare suggests a limited vocabulary, but your stretching exercizes on the beach forgive even your worst of credit ratings. I would slowly lather your middle toe with Vermont maple syrup and a sprig of melted sno-caps. And then we would watch reruns of MST3K on your iPad and you would yawn like a sailor.