Tuesday, October 12, 2010
Ask DB1: Natural Selection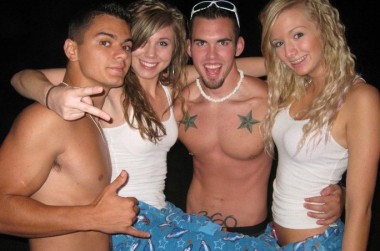 —–
My fellow warrior DB1,
I was recently considering the process of Natural Selection, when I had the gruesome thought that perhaps Douchebaggery might become a positive genetic trait.
After all, with all of the scrotum-faces with luscious asspear we see, there is a high probability, as much as we may not want to consider the fact, of mating. And the disease is spreading around our glorious nation and now the world.
Should I worry that the future of the human race will look like the evil-spawn we try to expose with the light of truth and reason? Ought I compile a collection of pictures of normal people so if the Douche-pocalypse occurs, there will be some record of us normal folks to withstand the flood of douche-photos bombarding everything?
Never lose hope,
– Sir Hate-A-Douche
—–
The anxiety you're experiences, Sir H.A.D., is, with apologies to Kubrick, what we term "The Startatt Child."
Fear of the unborn unholy cohabitation of hottie/douchey ascendancy representing a new devolution for the human race. A step backwards if you will.
The only mitigating factor is that, unlike Mike Judge's now academically peer reviewed and accepted "Idiocracy Theorem," the Douchebag tends to not like to produce offspring. It cramps his party style.