Tuesday, October 5, 2010
Ask DB1: The Suburban Divorcee 'Bag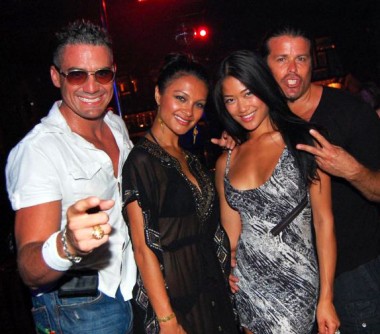 ——-
You know, DB1,
When I read this site, about the only solace that I get is hoping that since most of the HOTTS featured here are young; they will someday grow up enough to know better than to date orange, roided, gelled, preening, smirking, red-cup holding, gang-sign flashing, hat tilting, giant watch wearing, ridiculous tattoo douches, and instead go out with normal, non-pumped, verbal, intelligent guys who won't think of them as possessions, conquests or arm accessories from which they can "get some."
I still hold out hope that this is true, but I swear to God, every time I go to a function at my kids' school, Back to School Night, Family Fun Night or whatever, I start to seriously doubt that this paradigm is true.
Because all of the cutest divorcees, and there are always a few, show up to these things accompanied by smirking, middle aged douche bags.
These guys invariably sport torn jeans, and not torn by manual labor or falling off a bike or whatever torn jeans, but torn by low-wage factory workers in Thailand or Korean torn jeans.
I could laugh this off. Some women (and men) just stay dumb, right? Some of us never evolve.
But see, I KNOW most of these women and they're not bleeths. They are not dumb. A lot of them are professionals, teachers, attorneys, the cream of the suburban divorcee crop not only in regards to looks, but also in the brains department. And yet at every function they trot out these f-ing douchebags.
Riddle me this, boss. What gives?
Does the lure of the douche not lessen as the HOTT ages? Is attraction to douche not lessened as the HOTT learns, evolves, gets smarter, learns a thing or two about the world, and gets screwed over by douche after douche?
– BFlak
————–
In the age of youth culture fetish, the quest for eternal teenagedom condemns the aging to seek out the brand name validation that will best hide the truth of mortality under the bling of spectacle.