Friday, October 1, 2010
Friday Haiku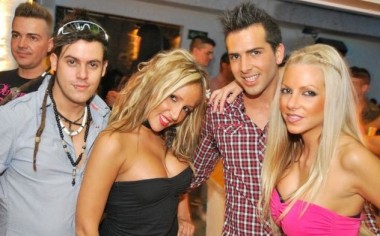 Rat Tail Joey tries
to booty bump Kelly, but
goggles do nothing.
Nu Poo frat mixer
sees paid-to-pose hotts luring
new plebes for spankings.
— Wheezer
Goggle boy could not
Decide between bed-head look
Or dreadlocks. Tried both.
— The Goob the Bag and the Pudly
Nineties Oakley Blades
Rest on hair extension mop
Get me the scissors
— Battlescrote Gallactica
It takes a real choad
To make spike hair taint seem like
Acceptable choice
— Deltus
Douche has cords on neck
Surely one could be used to
hang? Or use pigtails.
— Franklyn DealorNo Doucheifelt
Lost in sea of poo
Is dynamite hott in pink
Begging for rescue
— DoucheyWallnuts
Checking WebMD,
That photo makes my eyes itch.
Yup, I have face crabs.
— Blair
Mams o'marshmallow
Need milk chocolate, grahm crackers,
And my schlong betwixt.
-Amerigo Vesdouchey