Friday, October 1, 2010
Friday Thoughts and Links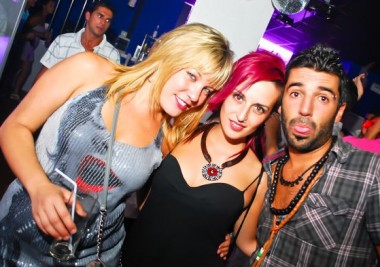 Ah, yes, the energetic power Prius electric vegan combo of alt girls and hipsterbags.
Girls with strange hair dyes and dudes wearing giant wooden necklaces.
They fuel our society like so many online 'zines and indie bands begging you to iTunes their two minute autotune synth masterpiece so they can finally open for the band opening for Vampire Weekend at that Portland show the drummer's older brother totally has a connection with.
Because it's a dream come true, man.
Someday, we'll all get signed to that label in the sky.
Here's your links:
Your HCwDB DVD pick of the week: "Let me go, Barney!"
Maxim Online totally comes up with a hilarious article on douchebag mocking techniques totally on its own through sheer creative writing genius, totally!. Remember kids, if you edit a major magazine and see something funny written on the internets, it's freeeee to copy!
Las Vegas is now killing tourists with death rays. Say hello to Vegas Ass Kicker's mom for me.
A reader notes that Alex Trebek's Jeopardy! stays hip with the kids.
Uniquely American douchebag Spencer Pratt promotes his new movie: Malibu 69 or something. (I only made it 10 seconds, and then I castrated a baby seal).
On Ebay, you can bid on a 'bag lunch.
This week in HCwDB History: In the mid 19th Century in England, douchebags were called Macaronis. Thus the line from Yankee Doodle Dandy "stuck a feather in his cap and called it Macaroni," was a mocking English reference to how ignorant Americans were when they tried to, literally, peacock it up for the ladies. See? It all ties together.
Ed Hardy Motorcycle helmets. For when you want your counterculture rebellion mass produced and on sale at a discount online website.
The great Johnny Carson and Ed McMahon riff hilariously on feminine hygene products in 1974.
Bollywood officially pwns Hollywood with the greatest trailer of the year.
Ladies and gentlemen, Young Christopher Walken says everything there is to say.
So from Young Christopher Walken saying everything, there is nothing left to say. We leave the linguistic realm and we go straight to the Pavlovian response:
And:
Go forth. Chase a fleeing Pear. Flee a chasing bear. But, most importantly, celebrate our God given right to alcoholic inebriation. For the Weekend is upon.