Friday, October 8, 2010
Friday Thoughts and Links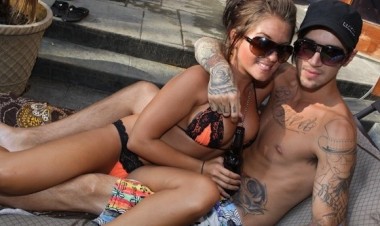 'Bags and Hotts float through our collective unconscious like phantasms of spectral toecrud.
It is Freud's primal scene, the words of corporeal wrongness written on the facebook walls. And twitterbook halls.
The echo in the sound of douchebag.
Here's your links:
Your HCwDB DVD Pick of the Week: "Story of my life. I always get the fuzzy end of the lollipop."
Miami club owner hoping that the sports fan 'bags won't realize it's a recession, that $15,000 for a cabana and champagne is asstastic, and that hi-def TVs are quite cheaply priced these days.
Billy the Exterminator continues to terrorize small woodland creatures with extreme douchebaggery.
Australia's wonderful successful victory in the War against Ed Hardy didn't come without significant financial costs.
Via Reader Joe comes this week in Retro HCwDB: 1959's Edd Byrnes and Connie Stevens.
For the sports fans among us, baseball's Bryce Harper busts a douchey-ass faux/mo'.
Ed Hardy pizza boxes. And the baby Cthulhu weeps.
Tapout Clothing, official brand of wannabe M.M.A. douchebags everywhere, attempts to challenge Ed Hardy and Affliction dominance by training the next gen of 'baglings.
And if that was too much of a downer for ya, there's always this.
But enough Roddy genius. You've come for the pear. And I give you the pear.
Globby bread glute. Enjoy. Celebrate. For it is Pear.