Friday, October 15, 2010
Friday Thoughts and Links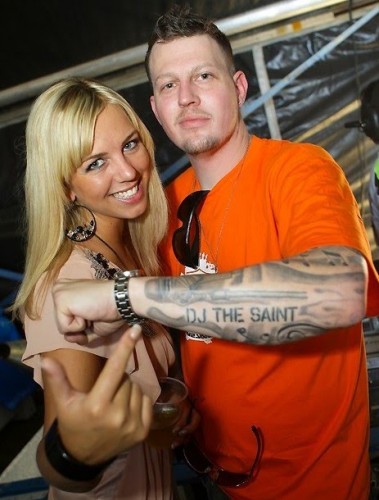 Ah yes, the marking of one's forearm to announce identity and impress the Blondie Hotts.
D.J. culture. Where turning on iPods while standing on a dais earns $1,500 a night.
And so we announce with pride in permanent ink that which is culturally transitory and ephemeral.
Hence, "DJ the Saint."
Here's your links:
Your HCwDB DVD Pick of the Week: How's your wife and my kids?
Darth Maul wears Affliction. Call it the Jedi 'Bag Trick.
Ubiquitous Red Cups, following the Axe Bodyspray and Jersey Shore self-aware douchebaggery strategy, find new ways to market themselves. And set up a Facebook thing.
Harry Potter Groin Un-Shave Reveal. Should I go for the obvious?… I supposed I should… More like "Hairy Putter!" I hate myself.
Ya gotta sit through a few commercials first, but this episode of "Bones" on Hulu, entitled "The Maggots in the Meathead," does a beautiful job mocking douchebag (look for the Jesus Bling in the opening sequence and a brilliant 'bag takedown at 5:25-7:25).
More signs we're losing the war: "The Situation" continues to cash in.
The response:
With the start of basketball season, it's time for our annual reminder that the NBA's Chris Anderson is a shrieking pile of skeezy white trash douchewad. "Free Bird"? Really?
Someone named "Aaron Carter," whom the reader who submitted this link tells me was once minimally famous, is now posting pics of himself as a greased up musclebag.
In the news: Superdouchey aspiring "rock band" shuts down the 101 freeway in Los Angeles in desperate attempt to gain fame. Zero Rockstar Leniency Rule for this shite.
But you are not here just to mock Chris Anderson and douchey metal bands. You are hear for Pear. It is your reward. For another week of bringing the mock. And here it is:
I would pedal uponst thine glutes like a cracked up ferret chasing a cube of government cheese.