Friday, October 29, 2010
Friday Thoughts and Links: Halloween Edition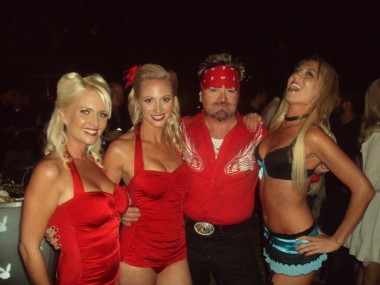 I meditate on the ginormous mandana on this Friday before the Hallow's Eve.
I ruminate.
I postulate.
I crapulate.
And I reach an epiphany: It looks stupid.
But then I realize that young ladies today follow in the traditions of their foremothers, and wear tight red dresses displaying the firmness of suckle boobage.
And all is well in the witching hour.
Here's your links:
Your HCwDB Book Pick of the Week: "I was a victim of a series of accidents, as are we all."
One of the Holy Grails for those of us who grew up in the 80s has finally been released: Footage of Eric Stoltz as Marty McFly.
HCwB's own Baron Von Goolo pwns Twilight. BvG for the epic uber-win.
T Shirt Hell introduces the Douche Baggins. I should've gotten around to making those HCwDB shirts I was gonna design last year. Stupid laziness.
Of all the many "Hot Chicks with" ripoff sites created after HCwDB, none may be odder than Hot Chicks with Big Fish.
If you're bored and have time to kill this Halloween, you can always watch fifteen minutes of "Bad Ronald."
HCwDB Halloween Costumes, once the province of readers of this site, are now everywhere: When costume disasters strike on Halloween. I'm a bit bummed it isn't our collective private mock anymore, but a larger cultural mock is still a good thing.
Speaking of, Baltimore Ravens quarterback Joe Flacco does his best "Situation."
The great Roger Ebert pens an engaging look back at Hugh Hefner and Playboy.
But you're not here for blogs about Playboy. You're here for the Pear. And while I have no Halloween-centric Pear to offer you upon this Friday, I can offer you this:
It is healing. It is wholesome. It is firm like the finest gouda.
Enjoy. Partake. Serve on a cracker.
For it is Halloween weekend. And the 'bags are properly mocked.