Wednesday, October 20, 2010
HCwDB of the Month: Mister Liptatt and Holly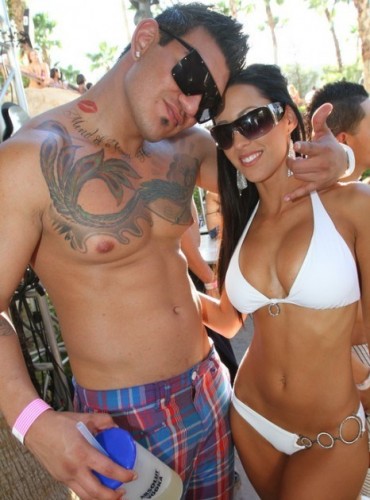 In a neck-and-neck race to the finish line with The Kleenex Wipe and Nicola, and by neck-and-neck I mean boobs and stupid tatts, the singular wrongness of so perfect a boobie hottie and so stupid a Vegas douchewank took the prize and a slot at the 2010 Douchie Awards in December.
The voters speak:
Bag Margera: Holly's body is so perfect, it looks like it was engineered in a lab. And liptatt is on par with fish slap. All he needs is a series of pics in which he continues to douche it up as a constantly expanding cold sore. Lipherp FTKITN!
Vin Douchal: Mister Liptatt and Holly FTW even if Holly took off those shades and had a pair of detached retina floating her eyes in different directions , she'd still be HoH worthy.
CanuckSmacker:Liptatt FTW. Holly for the Hall. Simple as that.
Deltus: It's the difference between *knowing* that Nicola is perfection, and outright *seeing* that Holly is perfection. So it's Liptatt and Holly FTW, but just by a nose. My nose. Sniffing anywhere and anything on Holly before security throws me out.
saulgoode42: Liptatt- his girl's the hottest and he's got epic moobs in the making. Plus, the liptatt itself looks like a strangely-placed third nipple.
soy bomb: Mister Liptatt and Holly for the win. Him: gross boobs, disgusting liptat, laughable facial fung, insufferable facial expression, played-out hand gesture, generic faux hawk. Her: Absolute Perfection.
Justin: Holly has the most insane body since the hourglass…maybe better. Lipshat has all the right moves…stupid hand gesture, crappy tatts, bling, shaved everything-except for the stupid little booty duster on his lower lip…he sucks.
smackdouche: I would vote for anything that involved Holly. Her bathing suit screams, "oh, Oh, OH!!!".
boatbutter: Holly. And whatever what's-his-name is.
Sergeant Scrote Stain: the guy is flexing his non-abs so hard that I just crapped my own pants.
Too Short: Holly's body for hall of hott. Does Liptat have enough to complete the combo? At first glance, no. Upon further inspection every part of this photo has something duchey. Garish tats, pink wrist band, douche face, douche hand signal, douchey glasses, douche hair gel, chest shave and douchey plaid shorts.
Douchie Arnaz: Coldlipsore for the win; Holly for the Hall.
Taint Nuthin But A G-Thang: The sight of Liptatt still upsets my digestive system and makes my bowels discharge oily stool. That idiot is foul. Holly hurts my soul, she's that hot. This pic is simply the most perfect description of a super hott with a loathsome douche deserving of all the Mock that we can thrust upon him. Liptatt/Holly FTW all the way.
Tom Choad: I'm on the Liptatt and Holly bandwagon, too. Though I'd rather just be on Holly.
army (ret) douche: Because the douche is so close i must vote for the tie breaker hott. Thusly i choose mr liptat and holly. for nothing complements boobage better than a white bikini, excuse me while i find a mop for my saliva…
Mr. Scrotato Head: Mr. Liptatt and his natural breasts for the win; Holly and her bad taste in women, err men, for the loss.
Mr. Biggs: I'd like to propose the Liptatt as a possible 2010 trend. I saw it on another guy and instantly branded him as a douchebag. Correctly too… within 30 minutes he was telling everyone how his pregnant fiance likes when he eats pineapple.
DoucheyWallnuts: Holly FTW with Mister Liptatt riding her hott coattails – "Hotttails" – to victory. Behind every great douchebag is a smoking hott Hott. 'Nuff said.
Redouche-Reooze-Repsycho: Liptatt evokes the douche-loathing in me like few choads on this site ever have. Hell, he should get it just for going shirtless with that oozing peacock feather tattoo and sagging moobs.
Sometimes the power of a single smirk/hand-gesture in presence of perfect boobie hottie suckle thigh is enough to defeat a thousand club photos. But the Canadian Kleenex Asswipe and sexy Nicola came in a verrry close second, nearly taking the prize:
I douche, therefore I am: Kleenex, for making douchebaggery his business… plus ridiculous bling, CSR, tatts of poo, smirky smirkface, and last but not least, a rather sweet hott.
The Reverend Chad Kroeger: Holly gives Wood but God save the Queen. And by Queen I mean Kleen. Kleenex for the win and a picture beside douchebag on the Illustrated Encyclopoedia Brittanica.
Condouchious: Holly is HoH worthy, but I vote for Kleenex because his douchiness goes beyond materialism and tats and facial expressions, it is a way of life and a state of mind. It is the reason for our spiritual war against all that is scrote. Also Nicola is easy on the eyes.
ehcuodouche:he deserves the monthly for being a club promoter, fostering an environment where douchebags can mingle, thrive, and grow out of control. The other douchebags might just be spreading their infection partner by partner. This guy is up in a crop duster blasting paraquat over thousands of acres.
Douchey Lewis and the News: The Kleenexer and Nicola FTW. The part of my brain that comes up with pithy comments died at the mere sight of the Kleenexer.
tall guy: Kleenex so clearly climbed the craggy mountain of taint before him and emerged top of a foul smelling, scumbag heap.
Bangladouche: Kleenex. He brought it all month long. His douche-ness out crapped everyone. Holly for Hall of Hot.
Maxim Kovalenko: The Kleenex. Track record is the best indicator of future doucheosity, and this guy has that nailed. Besides, that goddamn sneer makes me want to take an egg beater to my eyeballs so I don't ever have to see it anymore.
The Goob the Bag and the Pudly: I don't think anyone this month remotely reaches the depths of douchedom that the human bowel movement that is Kleenex does. He will continue to suck the goodness out of life every time I see his smug, sneering face, until the moment I see it being concaved by a well-aimed mallet.
Freddy: Kleenex, the bling alone would fill the coffers of a Spanish Galleon.
fatness: Nicola is all sorts of nocturnal emission hottness and Kleenex douche makes me want to bomb Canada
Sir David Douchenborough: Nicola fits the bill as a lustful bond girl in distress. Unfortunately, rather than being caught in a web of sophisticated intrigue, she is caught in what looks like a Douche version of Kids In The Hall sketch and thinks that Kleenex will be the key to that coveted position of host at Entertainment Tonight Canada.
Canada indeed has to account for its recent rise in douchal activity, fatness. Coming in a way distant third and fourth, Vlad the Inhaler and Natasha, and The Crustie Brothers and Karen and Sue:
anonymouse: I gotta go with the Crusties for scoring real-world milf Hotts and for being old enough to know better. Young douchebags may still right themselves with age and wisdon, but old douchebags are douchebags forever. That, and Sue. My god, how I lust after Sue.
Devon Wheatcakes: I vote for Vlad the Inhaler because he causes grown men to chuckle, little girls to cry and C. Everett Coop to choke down a carton of Marlboros, whenever he enters the room.
08ArmyDoc: I gotta put the dime down on the darkhorse Vlad – he's the real meal deal: punchable kissy face, rare teeshirt over head pull, moobs, AE undies poke, ciggie, appropriately spiked hair. And you know he has a tatt somewhere – I think it's the one on his nads that say "punch here"
Constantine IX Monodouchos: And the king was acclaimed by the traditional "Oil! Oil! Oil! Long live to the king Vlad!"
Vlad and the Crustie Brothers just didn't have the overwhelming uberdouche that it takes in the Monthly. Lets turn it over to Nancy Dreusche to take us home to the Yearly:
Lipshitz Tatt and James Bond Bikini model Holly. Lipshitz still enrages me with his How-To-Pleasure-My-Neck-Area Craptoo and Holly looks likes she farts chocolate covered strawberries. And as you all know, I love chocolate!
Indeed, I love chocolate covered strawberry farts too, Nancy D. We'll see these two competing in at the 2010 Douchies. And your humble narrator for Frosted Mini-Wheats.