Monday, October 11, 2010
HCwDB of the Week
It's a Fungtastic Weekly, three selections of facial crud cohabiting with hottie suckle thigh for your perusal. Which will win/lose? Here's your finalists:
HCwDB of the Week Finalist #1: The Crustie Brothers and Karen and Sue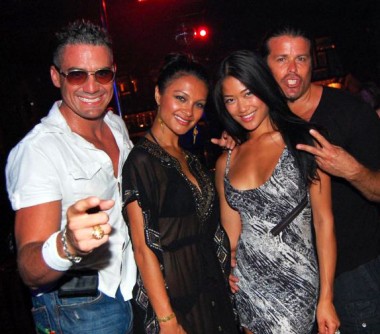 From Tuesday's "Ask DB1" on suburban divorcees dating aging suburban douchepuds, The Crustie Brothers are all that is middle management in Decatur.
With choady greasebags and tasty Asian/Indian world cuisine suckle thigh, this is one of those HCwDB pics which offers ethereal dialectic and the wafting smell of poopie diaper.
But rarely do pics that split the bags/hotts into more than a simple binary take the prize.
Can the Crustie Bros bring oldbag game to the victory?
Can Karen and Sue successfully ignore my staring at them stalkeringly at the D.M.V. while waiting to register their Audi?
Only time will tell.
HCwDB of the Week Finalist #2: Skulltatt Sammy and Party Girl Ashley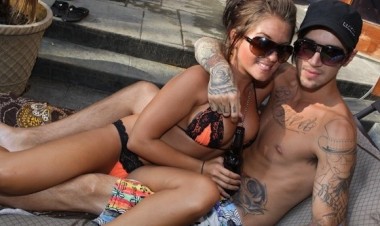 Perhaps this vegas HCwDB pairing should've gotten a more unique entry last week (as well as vaccinations), as they appeared in the Friday Thoughts and Links post.
But Skulltatt Sammy is all that is classic Vegas douchecrud, and Party Girl Ashley is wearing a silk lingerie getup. At the pool. Upon which spittle and drool are attracted like romanian tractor beam.
For that, the hottie/douchey cohabit is too toxic to ignore.
Truthfully, this is one of those pics that made it more on the strength of the hott than anything else. Ashley has the supple-firm skin of a newborn doe. A doe with humpty hump.
Does Sammy have enough to carry the 'bag side of the equation to victory/loss in the Weekly?
Do not ignore the skull stupidtatt and designer black cap. But no hat tilt? Can Sammy's "douche aura" prove enough?
But there's one more finalist to consider:
HCwDB of the Week Finalist #3: Itchigan and Bouncy Diana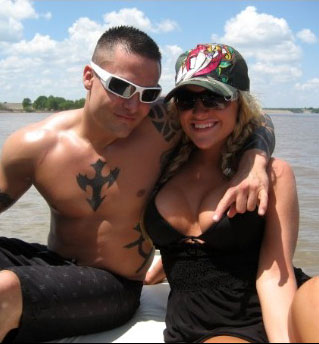 The Itchigan 'Bag, or "Itchigan's Island," if you will, was another entry that didn't receive his moniker upon first appearing on HCwDB, appearing in the Ask DB1 on Relationship 'Bags.
Itchigan is classic Boatbaggery, and Diana is all that is giggly about not finishing a G.E.D. but not caring because, hey, boobs uber alles.
Together, they make a quality hottie/douchey boat poison that deserves anger from all who witness.
But enough to knock off Oldbaggery and Vegas crud?
Triple-F just couldn't make the cut, as Alison's not really bringing A-List Hott game. But those chin fungal stripes and silly sunglasses are just too douchey to ignore and we may see a 2010 Douchie Award in his future.
(Dis)honorable mention to Snidely Liprash, Fung Diddy, Jigsaw Steve, and the continuing genius of Kettlehead and Company, whose latest entry most definitely will find favor when culling down my gallery show at the Guggenheim in 2023.
Which of these three couplings has the greatest meaning of hottie/douchey societal disgrace?
Vote, as ever, in the comments thread.