Friday, January 14, 2011
Friday Thoughts and Links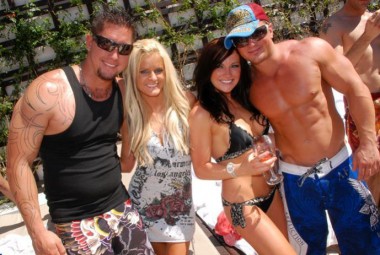 If ever we think we'll run out of HCwDB material, there's always Vegas. Waiting for us. To comprehend the hottie/douchey dialectics in toto.
Like a buttcheek pimple, it speaks to us.
It says, "do not sit on me or I will burst!" And so I nickname it "Howie" and sit anyway.
Here's your links:
Your HCwDB DVD Pick of the Week: "As the days go by, we face the increasing inevitability that we are alone in a godless, uninhabited, hostile and meaningless universe. Still, you've got to laugh, haven't you?"
Dylan McDermott is…. John Douche.
I'd buy that for $269 Euros! Boobies sell, kids. Boobies sell. (features many naked and glorious not safe for work boobies)
Bachelor Party's Tom Hanks has a son, and that son is unworthy of having a father who was the lead in Bachelor Party.
Douchebags in the News: Lonnie Morris Stuffs $50s in his pants. Yet another reason why Ohio is on my list of potential douchiest state of 2011.
T-Shirt Company starts a promotion where they'll take Ed Hardy and Affliction donations and give them to homeless people. First world nations should not be this cruel to the must unfortunate among us.
The Jersey Shore continues to be the greatest spreader of Grieco Virus among the young, and while I share a network with the show, its douchal spread is undeniable.
Finally, there is Pear.
There is glorious Pear.
And then there is Chipped Wall Pear.
It's like two cushions that sing the praises of the glory of Adonai.
Go forth. For the weekend is upon.