Friday, January 21, 2011
Friday Thoughts and Links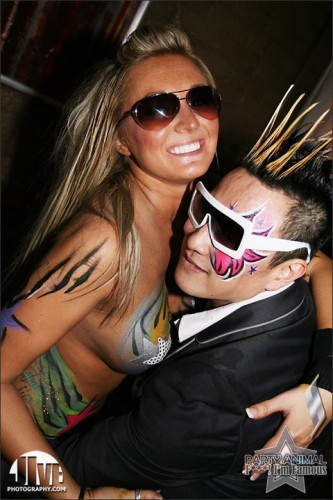 As Pierre Bourdieu notes, culture and image tribes have long adorned themselves with the markers of status as part of their determinants imposed upon the mating ritual.
A complex series of social, cultural and hierarchical spheres of visual signification meant to establish ritualistic order over coupling and desire.
And yet.
Somewhere along the line, we ended up with this.
Four prong and boobie paint.
And Elijah kicked a lamb.
Here's your links:
Your HCwDB DVD Pick of the Week: "Ok ladies it's time for the GRATUITOUS NUDITY. You supply the nudity, and we supply the gratuity."
"WTF Beast." An epic folk anthem for the po-po-mo generation.
Blogger David Medsker sums up HCwDB's case against Denis Leary and perhaps rightly takes me to task for jumping the gun on my critique without having seen the show. Still, I stand by my thesis.
And so as not to pull a Leary myself, credit given to reader Luis Douchuel, who came up with the title "The 'Lifestyle' Takes Its Toll" along with his submission on Monday, and I used it without crediting him. My fault, L.D. All writing on the site should always be given credit to whomever wrote it.
Sabio and the rest of The Bros ™ find gainful employment in Canada as academically trained scholars of antiquity.
Ed Hardy invades iTunes and creates its own Douche App. Just when you thought it was safe to create a playlist.
A blogger asks why Asian guys prefer white chicks, references Four Prong. The answers lie in the spikes.
Only the boldest of 'bag hunters and huntresses dare venture into the video gallery of London's "Elite Parties." Where stupid people overpay by the thousands to run with the goose for a few hours and pretend they're having fun.
Okay. Lets get to it.
Today, for your serving of firm, glute hindquarters, we're gonna mix it up:
A theatrical lineup of gnaw for your Friday eve, as we hike upwards and into the 2 out of 7 days that are not like the others.
Enjoy. For the weekend is upon.
EDIT: Some comments in the threads today aren't immediately appearing due to a new spam filter, but will go up after a short delay. Should be running normally tomorrow.