Friday, January 28, 2011
Friday Thoughts and Links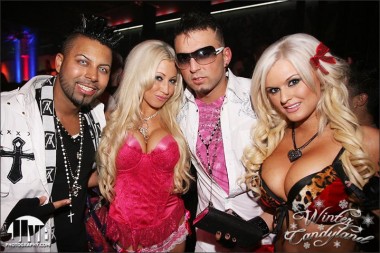 Your humble narrator is sleepy and hungover on this lazy Los Angeles Friday.
Aside from discovering that The Starhawk and King D hang out together while wearing strange contact lenses, I notice something else. Inflatable Cleavite.
I ponder the inner curve of cleavite as something that math, science and biology can never fully describe. For it is a boobie bobble of tender gnaw beyond words and facts. It is "metafondle."
Here's your links:
Your HCwDB DVD Pick of the Week: "Are you kidding? He probably ate his folks!"
The art of trolling, a pictorial story.
Details asks Are you Raising a Douchebag? I think Denis Leary wrote the article.
Tattoo Shirts. Still out there. Still scrotejuggle.
One of our celebrity HCwDB couplings we've been tracking, Emmy Rossum and Adam Something from the Something Crows finally broke up. Back in November of last year. But since we don't really care, it wasn't that important.
An excellent time waster if you're bored, with quality writing, the The 50 Greatest Guitar Riffs in Rock. Props for including John Lee Hooker's "Boom Boom."
HCwDB's own Mr. Biggs has almost completed his epic graphic novel, Inferno. Check it out on Facebook.
Follow The King on Twitter. He is a Knicks fan.
Stoned Teenager Order Taco Bell in the Voice of "Elmo." The kids are all right.
How's about a little beach pear for your Friday treat?:
A tantalizing reveal of all that is taut and fondle.