Friday, January 7, 2011
Friday Thoughts and Links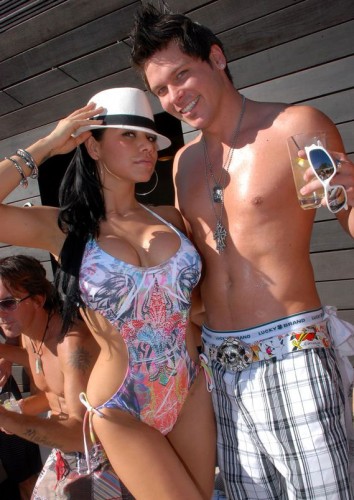 I don't know how choadscrotey up the scale Timothy really is. He's so damn happy to be alive, but with all that stupid bling, undies poke and nuclear sunglasses, I can't forgive. Belt buckle and fro makes Timothy a solid stage-2. So ye be mocked, Timothy. Ye are bag.
But why'd I really run the pic with the Friday Links?
Saluting Tiffany.
Her meaty yet taught suckle torso causes whirling dervishes to stop whirling and say "Whaaaa-?" It causes lizard hybrids to shed exoskeleton at confounding and exponential rates. When she turns rapidly to the right or left, her torso and boobs make a noise that sounds vaguely like, "gazzzzhhhhbonga."
I love her. I will name my next pet fish after her right breast. So I will name it "Fake But I don't Care." Which is a strange name for a fish.
Here's your links:
Your HCwDB DVD Pick of the Week: "Internet Killed the Video Star"
American customs agents ban Canadian wigga wanskta fraudbag from entering the country. My proud tax dollars at work.
A fairly amusing parody of the Situation's workout vid: Douchebag Workout Video.
The greatest sapphic Semitic Jewess sex scene in cinema history is now in theaters. Go see it. At least since that hot makeout scene between Fanny Brice and Molly Picon in 1922's musical revue, For A Little Hot Butter!
The Onion honors our first Orange Speaker of the House.
This does not forgive Axe's role as one of the Seven Founding Members of the Douchoindustrial Complex that began in the early 00s, but credit where credit is due: The Axe Ball Washer is pretty funny.
But you are not here for ads about ball washing. You are here for New Year Pear.
And we will begin this new year with the following quality but tasteful pear shot:
There will be more revealing gnaw to come in the weeks ahead. But for now, we repose with quality.