Monday, January 24, 2011
HCwDB of the Week: Carla and The Bros ™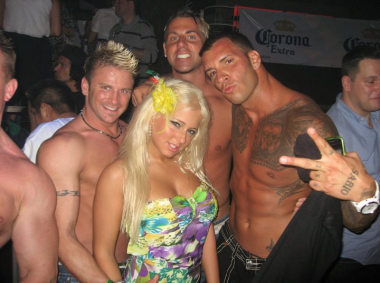 Carla's sexy/porny Vegas boobuousness mixed with the tri-shirtless douchebaggery of The Bros ™ would've been enough to have a shot at winning a Weekly on its pure hottie/douchey visceral merits.
But then, in the comments thread, Sabio and The Bros ™ responded to HCwDB with an explosion of diarrhetic douche-speak.
We quickly discovered we'd inadvertently tapped into a fertile vein of Canadian Paid-to-Douche twatwaffle.
And by fertile vein, I mean face penii.
So for the douchey Sabio and his team of twatedness, and for Carla's boobery, a well deserved HCwDB of the Week and slot in our next Monthly.
With appearances by HCwDB legends like The Starhawk, King D and 4 Prong, last week also featured The Ninja in the Picture accompanied by Hall of Scrote legend, Cro 'Bagnon.
(Dis)honorable mention also goes to Prinze and Jessica, who nearly won the whole enchilada.
But them's your third Weekly winner. A mock well deserved to Sabio and his Bros ™, to Carla and her tastyness, and the DB1 for Corn Pops.