Monday, January 31, 2011
HCwDB of the Week: Ronnie the Rivethead and Woo Girl Kelly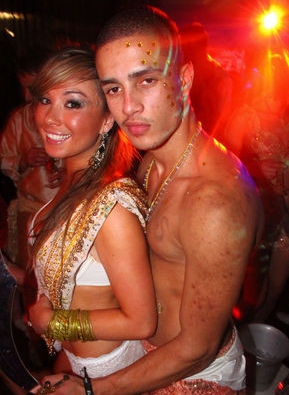 Last week was a week for visits from old friends.
And by "old friends," I mean legendary uberdouche mockworthy hyperpuds who deserve nothing but scorn and a good showering of epithets and mock. Like The King, The Starry Blight and Hello Kitty Hott, the legend that is Smoot, and we even found The Starhawk hangs with Hello Kitty Hott and The King.
But amidst the classics, we found a new and distinct pud macking on hott in the douchiest of ways. Ronnie The Rivethead, and the tastiest of party girl woo hotties, Woo Girl Kelly.
As reader DarkSock put it at the time:
—–
Ronnie, a veteran of the 2007 U.S. led invasion of Homoslavia, threw himself onto a Faberge' Egg grenade to save his platoon. He lost the use of his left nut and eventually lost his taste for girls and barbeque; eventually diagnosed by the VA as suffering from Post-Dramatic Ass Disorder.
—–
DarkSock's backstory is both metaphorical, as well as literal. Ronnie's sagging pimple flesh and diaper, plus Woo Girl Kelly's ridiculous hottness, was too toxic a combo to ignore.
A well deserving HCwDB of the Week coupling, and the last of our entries before next week's open vote for HCwDB of the Month.
Also, props to Grampa Joel. Who still wins at the game of life. As well as Mahjong by the Ft. Lauderdale pool at 2pm.