Monday, January 17, 2011
HCwDB of the Week: The Stay Puft Pantywankers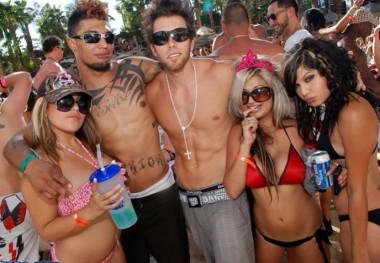 Undies poke, Jesus bling, chin fung and stupid hair. On the flip side, boozy, collegiate making-bad-choices Arizona State woo slutty hotts who slur their words, drink too much, but are healthy and firm when it counts.
Not a perfect hottie/douchey dialectic, by any stretch, as they are pretty much made for each other, but a qualifying combo of douchetributes and boobies, and, thus, a Weekly Winner.
While I almost gave it to Douchey Juan and Monica for the tasty hott but strangely dressed Monica, Juan just wasn't douchey enough to carry it.
Last week featured some quality Guggenheim material for my inevitable art show in 2023. And also some top shelf collegiate sorority gnaw. But Classic Vegas pudscrape and Arizona State Woo Slutty Hotts are a classic combo for the win (loss).
(Dis)honorable mention to the oldbags of Billy and Willy, and Quartasian Sara also makes my tingleys feel jibbly.