Tuesday, January 11, 2011
Random Thoughts on the Woo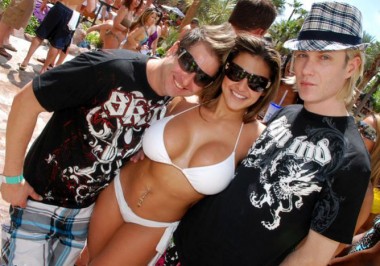 Here's the thing about what motivates the males of our culture to try to achieve fame, fortune and money via the imitation of rock star ethos.
Boobie Hottie Suckle Thigh.
And, at its core, this motivation is understandable and as it should be.
If a preachy Robin Williams talks about dead poets wooing women with words in times gone by, the kernel of truth remains the throughline to today's present status of Douglas Sirkian imitation of life via the online magnification of t-shirt and stupid-hair echo. Via the social networks and twitlonger bonus rounds, the Vegas Doucheclowns imitate the star pinnacle to attract ancillary suckle thigh.
The motivation is not suspect.
The culture, however, is. For it has gone rancid, douchal and entirely about overpaying for the ethereal validation that can never, naturally, be had.
But the boobies are real. And the motivation is real.
The Boobie Hottie Suckle Thigh screams "Woo!" when she wants to be wooed. And the competition to woo, via the woo, is, of course, eventually directed by John Woo.