Wednesday, January 26, 2011
Reader Mail: "First They Came for the Douchebags…"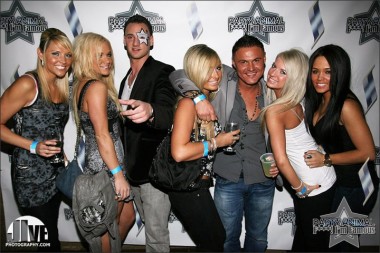 ————-
Dearest DB1,
It is my pleasure to tell you that I have followed the teachings of Your Humble Narrator for quite some time now. yet I have never quite built up the gusto to comment, or email the DB1 with matters regarding the growing plague that surrounds me.
This changed immediately after my eyes were set upon the inglorious quadrilateral of taint that is "Carla and The Bros." For I had realized that I knew one of the scrotestains within said picture, though for reasons of anonymity I shall not specify, and merely state that it was not Sabio.
Which brings me to my second revelation, and subsequent inquiry.
Having recognized one of "The Bros", I then came to realize that an associate of his happens to be somewhat of a friend of mine.
This friend tends to exhibit the physical qualities of a level II or even level III bag at times, yet always appears incredibly sociable, and is quite kind towards the non-scrotey comrades I possess. I have nary the will to bring this to his attention, as he is incredibly large, and has provided his physical presence to assist me when other 'bags act hostile towards myself, and my cadre.
How can I persuade this individual to subtly abandon the Tales of the Taint?
Or is overt mocking the only solution?
Requesting your guidance,
-Channing Taintum
—–
When one's friend, co-worker or associate turns into 'bag, the answer is never direct confrontation, C.T.
Mocking, from a safe distance and with the aid of a laser pointer, will help to enlighten all friends, neighbors, and gnaw hotties as to the silliness of his scrotey ways.
Eventually, cultural shift will force the choadwank to reform on his own.